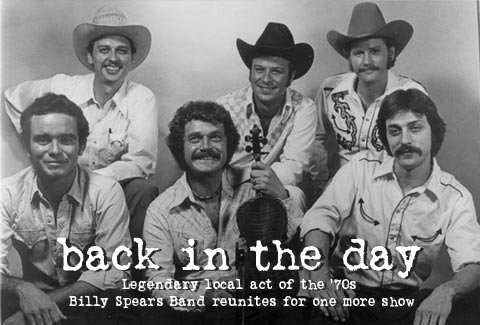 There was a time when Billy Spears was king.
A food service worker at the Kansas Union with curly hair and, judging by the old pictures, an inscrutable and wild look to his eyes and all about him-when Billy Spears was playing his fiddle, people would not miss it.
"He was a legend around town," says Chuck Mead of BR549, who lives in Nashville now but was a kid hanging around at Richardson's Music (now Richard's Music) when the Billy Spears Band was in full swing. "He's easily one of the greatest, most original talents to ever come out of Kansas, really."
Spears had come from a family of fiddle players from Oklahoma, had toured the nation in the 1950s with some of the country stars of the day, like T. Texas Tyler, Jean Shepard, and Ferlin Husky, and had met his wife, Doris-she asked for his autograph at a show-before settling in Lawrence.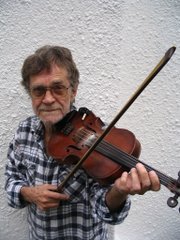 In 1975, one of their four daughters, Sally, was shot and killed by her boyfriend. After the tragedy, Spears made up his mind to give being a professional musician another shot. "To my way of thinking, he figured life is short and 'I'd better go for it,'" says Andy Curry, who would play bass for the new incarnation of the Billy Spears Band.
Spears hadn't had trouble booking gigs in town, and there were other country acts playing here or there, his daughter Carol Latham recalls, but the '70s brought a palpable change to the local music scene. For one reason or another-maybe a disco backlash, maybe a recognition of talent-Billy Spears, who was now in his 40s, was suddenly one of the acts to see, whether you were a hippie, a punk, or a redneck.
"The mid-1970s," says Junior Brown, who would wind up playing guitar and pedal steel for the band, "was a very interesting time for country music. There was a lot of optimism. It was becoming sort of a hip thing, and the young people were going out to see it. In the '60s that wasn't the case. In the '60s it was pretty much cowboys and truck drivers and not much else listening to it. We were sort of caught up in that changing scene and we benefited from it."
Past Event
Saturday, November 8, 2008, 8 p.m.
Liberty Hall Cinema, 644 Massachussets Street, Lawrence
All ages / $10.50
Spears had come from the time and place the new generation of country music players was looking to channel, and he suddenly found himself in the position of playing with musicians who idolized the men he had come of age playing with. "It was completely authentic and natural for him," Curry says. "There was no putting on anything. It was there."
From the mid- to late-'70s, the Billy Spears Band spent most its time on the road in an old school bus, playing Western swing and bluegrass in ski resort towns, at hippie festivals and in bars.
The band made some recordings and had some close brushes with a record deal, but its run came to an end in 1978 when Spears broke his neck diving into a swimming hole while on the road in Oklahoma. It would take years for him to recuperate and to relearn playing the fiddle with the nerve damage he suffered to his hands.
He would come back and continue to play in town, in one reincarnation of the Billy Spears Band or another. He said recently, sitting in the living room of his white stucco house in east Lawrence, he never was quite as good after the accident, but he came pretty close.
Album Mp3s
The Billy Spears Band
"If you want to play, you'll play," Spears said simply, adding that his uncle Earl still plays in his 90s. "If I don't play, Doris thinks there's something wrong with me."
This Saturday marks the band's third birthday bash, following one for his 60th and one for his 70th. Don't miss it, as it could be the last. (One certainly hopes not.)