Adri Pendergrass, comedian, wisenheimer, mama pacha
How do you save money?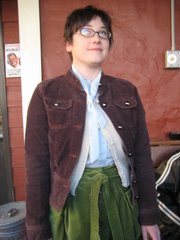 "Saving money is hard, because I don't have a lot of it. Basically, I just mooch off my boyfriend and charm people into buying me drinks. Honestly though, I find one can save a lot of 'dough' by buying foods that can be used in a wide variety of dishes-cheese, bread, veggies, fake meat-so they stretch out longer. I get my hair cut at the local beauty school-$7, y'all-and I make a lot of my own clothes from stuff I find at the Social Service League. Another good way to save money is to throw bills in the trash. That way you don't have to pay them, right? Also, I recycle my pee."
How do you splurge?
"Au Marche. I have a birth defect called 'Candy Problem'. Also, I like to go to the shoe store, i.e. 'The World Wide Interweb.'"