Name: Jason Marqusee
Age: 20
Sign: Pisces
Hometown: Sioux City, Iowa
Time in lawrence: around 2 years
Occupation: Student at KU, dishwasher at Milton's
Photo Gallery
Style Scout: Jason Marqusee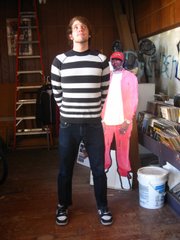 What were you doing when scouted: Earlier today I was playing some music, and now I'm at Love Garden checking out some records.
Favorite places: Richard's Music, ATC, Henry's, and Love Garden
How would you describe your style: I'm not really one for fashion, but I do have to wear clothes.
Where do you get your hair cut: I have people who cut my hair for me for free.
Favorite trends: I am a big fan of obscure vintage t-shirts. I really like when people just express themselves and dress independently.
Least favorite: I don't like North Face jackets or when girls wear leggings as pants. I also like those plastic rain boots are the new Uggs.
Favorite coffee shop: I'd have to say Milton's and Henry's, because they both have good coffee, and I like the music they play at Henry's. It's a good place to study.
Favorite hang-outs: I like going to shows at the Granada, and occasionally I go to house parties, but I mainly like to sit at home and read.
What would you like to see more of in lawrence: I'd like to see more local shows and more uncensored art. I'd also like to see more of Sean Galloway, Gigglez, and Robert Decker. And more dancing panda bears!
What would you like to see less of: I'd like to see less Greek life in Lawrence, and less group-think and pretentiousness.
Who are your fashion influences: I don't have any real fashion influences, but in general I am really influenced by David Bazan, Doug Marsh, Isaac Brock, and Jack White.
People say I look like: Ashton Kutcher, regretfully.
What are you reading: Crime and Punishment, by Dostoevsky.
Tell us a secret: I love Dungeons and Dragons, and I love FLCL.
PRICE OF CLOTHING:
shoes: Nikes, purchased from Famous Footwear, 1 month ago for $40
jeans: Levis, purchased from ATC, a few months ago for $12
shirt: BKE, from ATC about 2 weeks ago, $10
belt: stolen from a friend of mine sometime this summer, free.