Name: Jenny Kratz
Age: 25
Sign: Virgo
Hometown: Lawrence
Occupation: Catalog and Web Supervisor for the Kansas Union
Photo Gallery
Style Scout: Jenny Kratz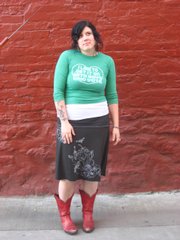 What were you doing when scouted: Enjoying an afternoon off of work with my friend Lauren at the Pig.
Favorite places: Love Garden, The Casbah Market, Au Marche, Wildman Vintage, and The Pig.
How would you describe your style: A splash of girly and I-don't-give-a-f*ck.
Where do you get your hair cut: Andiy at Static cuts it.
Favorite trends: Tattoos, bright colors, knee-length skirs, and any and all kinds of boots.
Least favorite trends: Sweatpants with boots and leggings as pants.
Tattoos/piercings: I have a Lauren Brunk original design on my arm, which was done at Ichiban Tattoo on 19th and Mass, and I have The Little Prince on my back, which was done at Big Daddy Cadillac's.
Favorite coffee shop: Milton's on campus gets me through my day. At night, it's usually The Pig.
Favorite bar: I like The Taproom, The Pig, and The Replay. I really like the Taproom because it feels like an illicit dance party in your parents' basement.
What would you like to see more of in lawrence: I would like to see more hookah smoking, and more freakshows. I also think there should be more authentic ethnic cuisine. I'd love to have a good French restaurant.
What would you like to see less of: Less eyeglass stores and less trucks.
Who are your fashion influences: My friends are a big influence. I also really like 'vintage Anthropologie', because I'm really inspried by the clothes in their catalog, but I try and find similar looks at thrift stores for much less.
People say i look like: Maggie Gyllenhall
Tell us a secret: I used to teach swing dance lessons and rock climbing lessons.
PRICE OF CLOTHING:
boots: a gift from my mom for Christmas
skirt: Luxx, from ATC about 3 years ago, price unknown
shirt: purchased from Urban Outfitters about 3 1/2 years ago
earrings: Creation Station, purchased 3 weeks ago for $5
rings: both were my grandmother's
bracelet: a gift from my friend Audrey.
More like this story on Lawrence.com