Monday, November 10, 2008
GREAT DEPRESSION II: DEPRESS HARDER
In the ongoing financial crisis, unemployment numbers reached their highest point in 14 years at 6.5%. The Big Three U.S. auto makers-Ford, GM and Chrysler-announced huge losses and asked the Federal Government for bail out assistance to stave off bankruptcy. On Monday, the Treasury Department announced another massive bailout of AIG, with the government taking partial ownership of the insurance giant.*:The Republican Administration which approved these unprecedented government buyouts stressed that these actions were not "Socialism," but rather "Capitalism Ultra: Same great lack of oversight, now with refreshing tax-payer burdens!"
ELECTIONEERING BOOGALOO: AMERICA FLUSHED THE TOILET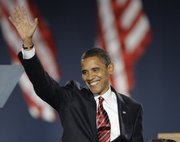 Barack Obama was elected the 44th President of the United States last week. He won in a landslide Electoral College victory, with 365 votes to John McCain's 162. Democrats also gained at least 6 seats in the senate and over 20 seats in the House of Representatives, with vote counts and recounts still pending on a number of races. President-elect Obama quickly began the work of assembling his cabinet by hiring Illinois congressman Rahm Emanuel as White House Chief of Staff.*:Obama and the Democrats moved swiftly to assume an iron grip of the country, immediately declaring the rich were to have their money and women redistributed to the poor. Grand Ayatohla Obama invited Osama bin Laden and the reanimated corpse of Karl Marx to the Oval Office-now known as the Ministry of Sodomy-for some "pallin' around time." Nancy Pelosi and Harry Reid have launched a door-to-door gun reclamation program, and Michelle Obama has decreed all white people must wear the "Star of Cracker"-a crude patch depicting overlapping Saltines-lest they be rounded up and sent to Harlem. None of the above has been confirmed, but a coked-up Glenn Beck has it on good authority.
RIP ROUNDUP
Notable passings last week include Barack Obama's maternal grandmother, Madelyn Dunham, who died the day before her grandson was elected president; Pulitzer prize winning author and broadcaster Studs Terkel, the Chicago native best know for his oral histories of the United States; and best selling author Michael Crichton, whose books-including "Jurassic Park"-sold over 150 million copies world wide.*:In a shocking twist, it was revealed that an eccentric billionaire had rounded up the DNA of Dunham, Terkel, and Crichton before their deaths. He has since revealed a secret island populated with quietly dignified, cigar-chomping, hack-writing dinosaurs. When Jeff Goldblum was reached for comment, he said some really weird shit about chaos theory that nobody understood.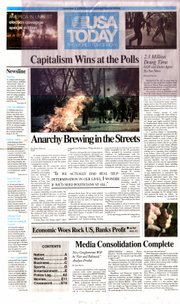 LAME BREAKING NEWS
Several newspaper boxes in downtown Lawrence and at least one on the Kansas University campus were filled last week with false front pages featuring stories critical of capitalism, corporate media, and the U.S. judicial system. Similar false front pages, suspected to be the work of anarchists, were found in cities around the country the morning after the election.*:When told of the news, Ralph Nader was reported to have said, 'Wow, and I thought my political stunts were ineffectual and irrelevant.'"
TRANSIT GLORIA
The T was saved by Lawrence voters last week with the overwhelming passage of tax increases meant to shore up the city's public transit system. The City Commission put the tax increases on the ballot after refusing to rule on the issue in September.*:In a joint statement, City Commissioners thanked Lawrence voters for "sparing us the arduous task of showing any leadership on this issue or generally exhibiting any balls whatsoever."
PROP HATE
California outlawed gay marriage last week with the passage of Prop. 8, a ballot initiative that overturned the California Supreme Court's ruling which granted marriage rights to same sex couples. Legal challenges have already mounted to Prop. 8 and street protests have erupted throughout California.*:The Mormon Church, which largely funded the "Yes on Prop. 8" campaign, celebrated this victory for traditional marriage by handing out free wives to everyone in Utah.