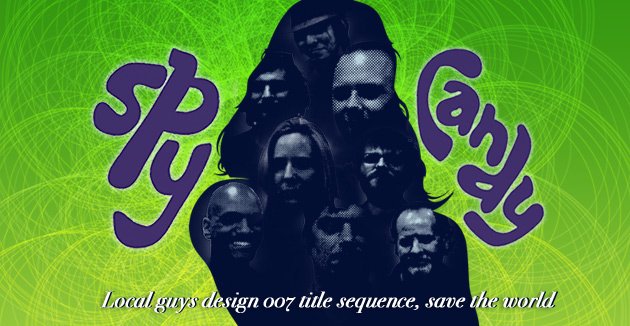 Monday, November 10, 2008
An outsider should assume, for the sake of happiness in his own, pitiful life, that working for MK12 is not as much fun as it looks, that it's filled with long, tedious hours of mind-numbing work entering code on a computer screen, yadayadayada.
One might describe the small company's building in Crossroads KC as nondescript-old, brick, rectangular-if it weren't for the sign affixed to the front:
TACTICAL DESIGN AND RESEARCH BUREAU: WORLDWIDE ULTRAGLOBAL INTERNATIONAL TOP SECRET SUPERHEADQUARTERS
The conference room one first walks into is likewise a step away from commonplace. White walls, chairs around a long table, but the table is a full-sized airplane wing they found at a salvage yard.
On a wall is an autographed poster for the new James Bond movie, "Quantum of Solace."
And that's the main reason we're here. Not to ogle. Not to prostrate oneself and beg most pathetically to stay.
MK12, a motion graphics company of nine, is still pretty green in the movie business, having had a hand in three movies. First the opening sequence and closing credits for "Stranger Than Fiction." Then the title sequence for "The Kite Runner." Now the title sequence for the Bond movie-the sexy silhouettes of the female form and all that.
Although MK12 is being tight-lipped about the content of the sequence because of a gag order leading up to the Nov. 14 U.S. premiere, for months salivations have been leaking from drooling mouths across the internet. New York Magazine recently speculated,
"'Quantum of Solace' to Possibly Feature Nakedest Bond Title Sequence Ever."
And indeed, the YouTube video clips are quite naked. See for yourself...


When lawrence.com last wrote a story on MK12 five years ago, they were already becoming a big deal. The company had been founded in 2000 by four friends who met at the Kansas City Art Institute-Timmy Fisher, Ben Radatz, Matt Fraction, and Jed Carter. Initially operating out of an apartment in midtown KC and clueless to the ways of the commercial market, they'd risen, after a rough first few months, out of obscurity.
They'd landed high-exposure projects, like an animated skit introducing Best Rap Video at the MTV Video Music Awards, and clients like The Cartoon Network, Best Buy, and ESPN. They'd even been invited to speak at a design symposium at the Guggenheim Museum Bilbao.
In the five years since then, the company has continued to create a reputation for possessing the three attributes desired to reach the elusive youth species: Young, Hip, and, oh yes, Edgy. These three words couldn't help but come up when "Quantum of Solace" visual effects producer Leslie McMinn described them.
"I know they get imitated a lot now," McMinn says. "They definitely have a style that's unique to themselves. I think everybody loves the fact that they're these small-town boys from Kansas City."
In addition to the movie work, these ol' boys from the great Midwest have been milking a steady stream of commercial clients, such as Coca-Cola, EA Sports, and Budweiser.
They've also expanded beyond the realm of video. Probably their most enduring project, in a physical sense, is a bridge they co-designed with el dorado, a Kansas City architecture firm, at 16th and Wyandotte streets.
When not prostituting their creative talents to evil corporations, they've made their own animated short films. "The History of America," a 30-minute, stylistic narrative showing an alternate version of the history of the our nation, one heavy on cowboys and astronauts and violence that they made over the course of four years, has been making the rounds on the film festival circuit, from Sundance to, a couple weeks ago, the Amsterdam International Film Festival.
Their break into the feature-length movie business came on "Stranger Than Fiction." Director Marc Forster and his crew had tried a couple of different companies for the title sequence, and nothing was working out, MK12 cofounder Ben Radatz says, when they turned to MK12. "They were ready to toss it, basically," he says. "We were the last ditch."
MK12 ended up developing one of the most creative and memorable parts of the movie: the opening sequence in which dull IRS senior auditor Harold Crick-described by the narrator as "a man of infinite numbers, endless calculations, and remarkably few words,"-trudges through his daily routine.
Numbers, words and symbols expand, contract and bounce along the screen with him as he brushes his teeth (76 brushes per tooth), puts on his tie (floral silk necktie) loads the dishwasher (1 bowl, 1 spoon, 2 forks, 3 cups), etc.
The sequence didn't work with the opening credits flashing across the screen, but Forster and his crew liked it so much they let it stand alone as the opening sequence, and also had MK12 do the closing credits. (Watch the opening here.)
As it turned out, MK12 couldn't have picked a better director to impress than Forster. When he made his next film, "The Kite Runner," he once again called on MK12 for the title sequence. Which leads us to Bond.
One, two, three, and they had found themselves making the mother of all title sequences, one of the most anticipated components of one of the most anticipated serial movies on Earth.
"The Bond movie was really a whole new ballgame," says McMinn, who has been the visual effects producer for the three films MK12 has worked on. "The main titles on a Bond movie are a pretty coveted spot. It's kind of the penultimate."
After a little work convincing longtime Bond producers Barbara Broccoli and Michael G. Wilson, McMinn says, they agreed to bring on MK12-the only company outside the United Kingdom hired to work on visual effects for the film.
Their first job was to create interfaces for all the screens shown in the film. This meant designing a fictional operating system for MI6 (the UK's Secret Intelligence Service), and developing the look for what shows up on cell phones, as well as high-tech Bond stuff like a screen on a table or a wall.
Next, MK12 flew to Panama, where the Bond crew was shooting, and made a pitch for the title sequence. Once again, it wasn't easy to get everyone on board at first, McMinn says, but Forster pushed for them, and they landed the gig.
Creating, as New York Magazine, once again, promises, Possibly Nakedest Bond Title Sequence Ever, was long, hard work. While their talent may be immense, and their material may be fresh and "edgy," the old-fashioned secret to all of MK12's success becomes apparent as soon as you talk to them (or try to schedule an interview).
They never sleep.
They never stop.
On most days, the nine employees arrive to the office between 9 and 11, Fisher says, and leave between 7 and 8. Then they come back around 10 or 11 and work until 3 or 4. Then it's back to work around 9 or 11. Except for some days, when they may not go home at all. They've been working like this for so long that, apparently, it does not seem insane to them.
"We have a weird schedule that extends from us going to art school and kind of working odd hours anyway," Fisher says.
This isn't to say those they work with operate the same way. Sometimes, working on the Bond film, they'd be up so late that they'd end up on the same schedule as the crew in London.
"I would get into the office and get an email from Ben," McMinn says, laughing. "I'd be like, 'Ben, it's 3 a.m. in Kansas City. Why are you emailing me right now?'"
The MK12 office has a feel that could conservatively be described as "lived in." They work in an open, bright, comfortably messy room, with odds and ends from various projects lying around, friends' art on the walls (including cowboy portraits of the four partners), a couch in back and a flat screen TV, an Arthur Bryant's cup, shelves full of books, a nice kitchen with a sink, a coffee machine, and a fridge, butcher paper on the windows instead of blinds.
A black curtain divides this room from the other half of the building, which is taken up by their gargantuan green screen, and various toys scattered around for past, present and future projects. A plastic wheelbarrow filled with paint brushes. A full-sized sandbox. A ping pong table.
They're wearing jeans, some look like they didn't comb their hair in the morning, but other than that, for all the surface-level weirdness, the office is remarkably businesslike on the afternoon after the election. Almost everyone is at a computer, working quietly, no music playing. Two of them are in the conference room, discussing something at the airplane wing.
After almost a year of focusing solely on the Bond film, the company is now exhaling for a while. They're working on another short film of their own. They're waiting for more commercial clients, after shutting their doors to them while they were steeped in all things 007.
"It really feels like the beginning of the studio, where it was a lot quieter on that financial, commercial side," Fisher says, "which should give us a good run of working on our own creative endeavors, for at least a little bit."