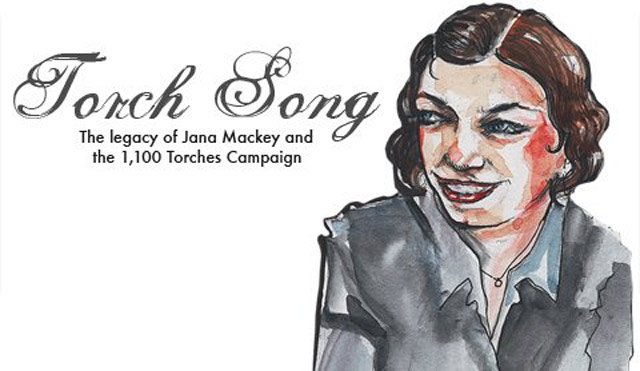 Monday, November 10, 2008
A mother in Oregon is compelled for the first time to donate her services to homeless outreach. Halfway across the country in Nebraska, a woman with no particular background in community organizing spearheads a statewide clothing drive for a shelter in Kansas. In New Mexico, yet another woman is driven from complacency and begins volunteering at a rape crisis center.
The only tie connecting these seemingly disparate people is they are first time activists-and they were all inspired to this newfound activism by Jana Mackey.
Those stories, and many others, are being collected by the 1,100 Torches Campaign as a tribute to Mackey and the profound influence she had in her brief life. Mackey was murdered by her ex-boyfriend July 3. She was 25 years old.
The hope is to document at least 1,100 of individual acts of courage, or "torches" as the campaign is calling them, to not only honor Mackey's legacy but motivate others to keep her flame burning.
Mackey had devoted her life to the cause of equality in many ways-lobbying for women's rights at the Kansas State Capitol; helping victims of sexual violence at the GaDuGi Safe Center; working with the Defender Project, the National Organization for Women, and the Kansas Equality Center; and marching on Washington to promote social justice.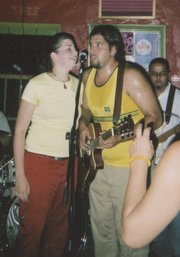 "She was passionate about life and love and giving everybody a shot," says Steph Mott, Jana's best friend.
"She was really comfortable with who she was and that made it easy for her to pick other people up and help them. If you needed a ride or if you had a bad day and needed a hug-she had so much to give."
"She could talk to anybody," Mott continues. "She could go to a bar in Podunk America and sit down and chat with anyone. She could do the country talk in small towns or she could go to New York and get stuff done with the power dykes. She could bring people together like that in a way that was very unique. She was also very tall, and you don't argue with someone that big. She could pull off that side, or she could be really soft and giggly and do some polka at Oktoberfest. She was really charismatic and really caring and really clever-you couldn't help but like her."
Mackey's inexplicable death stunned much of Lawrence. "It wasn't until the day of funeral, with the number of people who came and the amount of people that had traveled just to be at Jana Mackey's funeral, that we knew the full extent of what she had done," recalls Jana's mother, Christie Brungardt. "That was so mind boggling."
Jana's step-father, Curt Brungardt, says the name of the foundation comes from how many attended the funeral.
"At her funeral, each of the speakers talked about Jana's commitment to social justice and equality for all," says Curt. "Each speaker asked that we use this service as a call to action. In honor of Jana, in memory of Jana, won't all of us pick up her fallen torch and carry her work forward for social justice?" he recalls.
Past Event
Thursday, November 13, 2008, 7:30 p.m. to midnight
Granada, 1020 Mass., Lawrence
All ages / Free
"Minutes after the service, people that were in the audience were coming up and saying, 'I'm gonna do this' or 'I'm gonna do that' or 'This is how I'm gonna be committed to volunteer work or civic work' or whatever the case may be. So they started telling us this, and we were inspired that maybe Jana's work continues through others."
Her mom picks up: "Jana was passionate about issues of equality and she was passionate about issues of building community. She was passionate about loving Lawrence. She just loved community. This is a campaign that tries to recognize all of Jana, not just her political advocacy."
Her sense of justice manifested itself very early in Jana's life.
"I specifically remember when she was in 7th grade and she came home so upset," her mom says. "I tried to dress her in the trendiest, coolest things. She came home one day and said, 'Mom, I don't want to have to wear what all the other girls are wearing. I saw some of them today being so mean to one of the girls who can't afford to buy what's popular. It makes me mad when people are mean like that-that just isn't fair.' That always stuck with me because I didn't teach her that. I don't know where that came from. Jana just had a sense of fairness-for-all within her from a pretty young age. She was very, very strong.
It would take Mackey a few years, and a detour into studying music, before she found her voice. "Her second year at KU, she took a Woman's Studies course. A week or two into that class, she calls Christie and says, 'I have found my thing.' She was right," says Curt.
"What she accomplished in six years-from when she took that Women's Studies course to when she was murdered-is unbelievable. Congressman Jerry Moran on the floor of the House of Representatives gave a speech about Jana, in front of the whole country, saying that this person accomplished more in a short time than most people do in a lifetime. People ask us what she might have been able to accomplish if she had a long life, and I really think she would have been a major player in some of these issues."
Lawrence artist Molly Murphy was one of those in attendance at the Liberty Hall funeral and one of the first to light a torch.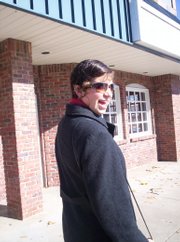 "When Curt said that there were 1,100 people in this room, which means there better be 1,100 more activists because that's the only way any of this makes sense, I think that was pretty inspirational to anybody there," says Murphy, who has donated proceeds from her work to the Jana Mackey Public Advocacy Fund at KU.
"I think it's refreshing to find a young person whose life really wasn't that complicated-it was just about doing the right thing," says Christie of her daughter's ability to still motivate people. "A lot of people look at that and go, 'Wow. I can do that.' We've had people our age and older come up to us and say, 'You know, I've never in my life thought about doing something for someone else. It's never crossed my mind. It's always been about living life for me.' I think it's the idea, though it seems pretty simple, that people want to do the right thing."