Originally published November 14, 2008 at 5:53 p.m., updated November 14, 2008 at 5:53 p.m.
Well, this was inevitable. After the massive success of the Rock Band series, it was only natural for Guitar Hero (the originator of the "plastic guitar game" craze) to throw its hat in the "full band" ring. Unfortunately, it can't quite pull it off with the same level of polish that Harmonix's baby possesses. Not that this matters whatsoever to the hordes of Guitar Hero junkies that are sure to buy this new $189.99 package.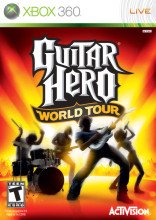 For those that have played Rock Band, you won't see anything revolutionary here. The "musical highway" arrangement is virtually identical, although GH: WT adds a few new twists. For one, held guitar notes can overlap each other. This means that you can have three long notes that end at the same time, but start at different times. You can also play notes by tapping a special bar on the neck of the guitar rather than strumming. By rubbing your finger over this bar, you can add effects to held notes. A star power button has been added to the base of the guitar, right next to your palm. This seemed like a good idea when I first noticed it, but I found myself pausing the game accidentally when I tried to hit it. It's very close to the start and select buttons, so get used to this happening on occasion.
The guitar additions feel a little gimmicky and unnecessary, and you won't find yourself using them very often. As for the drums, the added cymbals do make the experience feel more like you're actually playing an instrument. However, I found myself having some major issues getting cymbal hits to register. This became very frustrating, as there were countless times I'd lose a x4 multiplier despite the fact that I clearly hit the cymbal correctly. The overall build of the drums are superior to the Rock Band kit, but they don't register hits as well.
The one big feature that Guitar Hero has that Rock Band doesn't is the new create-a-song option. However, I found no practical use for this feature. It's clunky, overly complex, and you can't add vocals. Therefore, it's going to be nearly impossible for the average Guitar Hero player to ever create a song worth listening to or playing. It's useless, and should be left out of future entries in the franchise.
I really think we're reaching the point where this music game craze is hitting a wall. Most of the go-to guitar anthems have already been used for these games. I'm really not interested in paying $60 for yearly updates when I'm forced to play through No Doubt and Janes Addiction songs that I don't like. I think the future of these games should lie in downloadable content. Rather than trying to please everyone with an 80 song setlist, just sell the instruments and list tons of DLC on the Xbox Live Marketplace. Rock Band has been fantastic about releasing frequent albums and tracks, and Guitar Hero hasn't shyed away from it either (the Death Magnetic album download from Metallica was a fantastic idea). Gamers shouldn't have to buy a $60 game every year that only features a handful of songs that they like.
Graphics: 7.5
Audio: 8.5
First Play: 8.5
Replay Value: 8.0
Gameplay: 7.5
Overall: 7.8