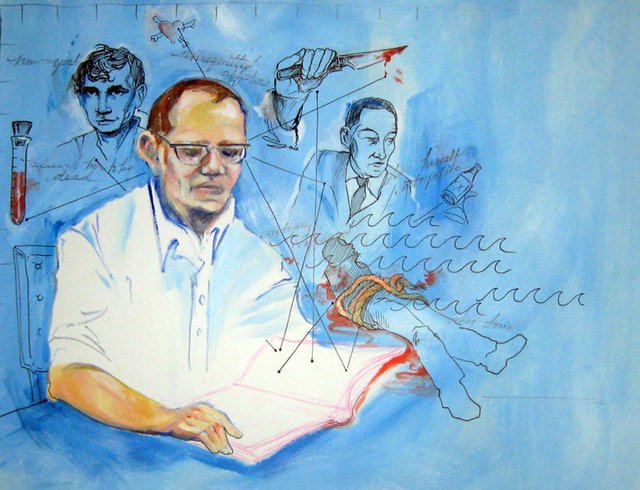 Monday, November 17, 2008
In August of 1944, a 19-year-old Columbia student named Lucien Carr killed 33-year-old David Kammerer, the man who had mentored him since he was a young, fatherless boy and had come to fawn over him to the point of obsession.
Carr stabbed him with a Boy Scout knife during a fight and threw his body in the Hudson River. The first people he ran to were his friends Bill Burroughs and Jack Kerouac.
Carr turned himself in, and it was heavily covered by the press, first reported as a fatal lovers' quarrel and then, as Carr took the self-defense line, a final act of pushing back against a queer stalker.
That winter, as Carr served time in a reformatory, Kerouac and Burroughs, unpublished, aspiring writers, alternated chapters of a fictionalized account of the Carr-Kammerer killing. It was called "And the Hippos Were Boiled in their Tanks," from a line in a radio news report, Burroughs later said, about a circus fire.
Nobody wanted to publish the hardboiled crime story, and Carr went on to lead a comparatively quiet, respectable life as a top editor at United Press International while his friends went on to literary fame. As Kerouac tried to rework the book over the years, Carr let it be known that he didn't want it published during his lifetime.
The rejected manuscript sat for decades. Carr died in 2005, and James Grauerholz, Burroughs' longtime friend, assistant and editor, the man who brought Burroughs to Lawrence for the final 16 years of his life, decided to show the long-lost text the light of day.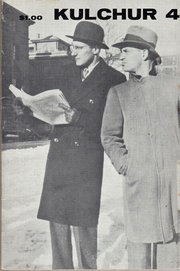 lawrence.com: Why did you decide to publish the book?
Here's the thing about "Hippos." I read it in '76, and I was fascinated, of course. I was Burroughs' biggest fan 30 years ago-and I was disappointed. I didn't think it was terribly good. I was under William's influence, and he didn't think it was terribly good. And we were looking at it in the context of this contentious situation. Lucien was embarrassed, and we were going, "Oh my God, why are we doing this?"
When I re-read it early this year to begin work on the book project, my opinion didn't change. So I began with the idea I'd had for years. That was that "Hippos" was a disappointment literarily, it shouldn't be marketed as a long-lost masterpiece-which, of course, the temptation was there for agents and publishers to try to do that-and ideally it should be presented with a bunch of scholarly apparatus. In other words, essays, footnotes, other versions from other writers, put together-published, unpublished, the whole dossier on the Carr-Kammerer relationship and killing.
In the end, talking with my editor at grove at Grove, Jamison Stoltz, I came to see that really it should just be the "Hippos" text by itself. ... I had, for 30 years, the idea that the book wasn't terribly good and should be presented with almost a modicum of embarrassment or humility. Then it dawned on me, it's not so bad, it's a pretty good read. People could like to read it, without having to be super-expert beat specialists. That was a big change, to realize that.
In the afterword you quote Burroughs as saying, "It had no commercial possibilities. It wasn't sensational enough to make it [...] from that point of view, nor was it well-written or interesting enough to make it [from] a purely literary point of view." How should the reader come at the book?
First of all, it wasn't written by "Jack Kerouac" and "William Burroughs." Although those were the names of those people, they weren't writers yet, really. They hadn't published a thing. They hadn't, in other words, had very much feedback from professional editors and publishers about how to write. They were imitating.
Past Event
Thursday, November 20, 2008, 3:30 p.m. to 5:30 p.m.
Oread Books, Kansas Union, KU campus, Lawrence
All ages / Free
There's a picture taken of William and Jack on the Upper West Side of Manhattan, on a cold day in the winter of '44 - '45, exactly when they were writing "Hippos." They are both in trench coats and they look a little self-consciously noir. In the early '60s, Kulchur magazine published it as their cover. I guess they got it directly from Jack. He titled it "Inspector Maigret and Sam Spade." Those are famous detective characters. In other words, Kerouac in '62 sent this picture from his files and marked it, "Here we are being hardboiled crime writers."
Lucien Carr didn't want the book published while he was alive. Did you think about whether he'd want it published after his death, and talk with his family?
Yes, I thought about it. Yes, I talked with Lucien about it. No, I have really no contact with Lucien's people. I just knew Lucien, and he did not care about it. I tried to do some moral formulas in my own mind in the '70s, when I was thinking, "Well, gee, he did kill a guy." I mean, it was in the newspaper. It's a pity, but my guy has to live with the Joan thing (Burroughs' killing of his wife, Joan Vollmer, in a William Tell stunt), right? The question is, how hard do you push it? The story was cold and nobody cared except for a few biographer-types.
Kerouac had only been buried seven years when (Aaron Latham's 1976 article "The Columbia Murder that Gave Birth to the Beats" for New York magazine) came out, and it came out of nowhere from Lucien's point of view. It was published because Aaron Latham was working on a biography of Kerouac that had been turned down by his publishers. Latham was represented by the same agent and had, at that time, an exclusive deal for access to the Kerouac papers. So, as a saving grace, he offered the first, exciting chapter, "The Columbia Murder that Gave Birth to the Beats," to (New York magazine editor) Clay Felker, who said OK and published it. Lucien Carr was never aware of any of this happening until he saw it on newsstands, and it was upsetting to him.
But he also knew that he would live with it. Example: When I went to stay with Lucien for a few days in 1999, I told him about a movie that was just being finished called "Beat," directed an written by Gary Walkow. It had Courtney Love as Joan Vollmer and Kiefer Sutherland as William Burroughs. I broadsided it on Ain't It Cool News, wrote an open letter ripping the Walkow script because I was offended and thought, "This is crap."
The moral of the story is, there I was telling him about the Walkow movie and how he was portrayed by name, etc. He smiled complacently. He was retired by then. He did a little sailing, a little writing, a little reading. He smiled with considerable sanguinity and leaned back and said, "Well, that's one movie I won't have to see." He felt he could ignore it. But it was a big difference from '76 when he was in the thick of things as one of the top editors at United Press.
I don't think he'd care. I don't think his sons would care. It's a thing that happened. It's pretty obvious that Kammerer basically begged. It was suicide by boyfriend.
The authors' groundbreaking works, Kerouac's "On the Road" and Burroughs' "Naked Lunch," are based in one way or another on their own experiences. Did this fictionalized account of the Carr-Kammerer killing have an impact on writing about their lives?
One of the important things about "Hippos": This was formative for Burroughs. It's difficult for us to unwind all the Burroughs fame and history, to go back to when he was 29, about to turn 30, in February of 1944, and meeting the 17-year-old Ginsberg and the 22-year-old Jack.
They had this little group: Lucien; Kerouac, whom (Lucien) had scooped up through Edie Parker; Ginsberg, whom he had scooped up through being in the same dormitory; Kammerer, whom he was tied to fatefully; and Burroughs, whom he knew through Kammerer. He threw together this little group and they were very congenial together. The young men looked up to the older men and thought they were really cool and bohemian and subterranean.
What happened was the objects of this adulation by their fellows played it up. Burroughs saw himself in the admiring eyes of young Jack and young Allen and tried to live up to their vision of him. The creation of William Lee, or Old Bull Hubbard, the persona, the narrator and author, was kind of collaborative. Kerouac would visit Burroughs and start talking, Burroughs would probably tell anecdotes of his life, and the ones Jack was loving and eating up, he would spin out longer. In other words, Kerouac, and Burroughs even to a greater extent, remade themselves in each other's eyes as a result of friendship and collaboration.
Was it groundbreaking in the sense of writing about their life experience? No, because Burroughs didn't really do that. He was fictionalizing in noir fiction mode. And Kerouac's first published attempt went the other way and was told all in third person, unlike "On the Road," where I think the first word is "I."
What would you like to add?
I intend to reminisce at the talk (Thursday) about Lucien. I know a lot more about Lucien's life than anybody else, except maybe his family, and maybe more than they. His father, Russell Carr, according to what Lucien told me, ran off when Lucien was 5 years old, which would've been 1930. His father was in marine insurance. In other words, to translate to 2008, complex financial derivatives.
After the Crash of '29, Russell Carr ran off to Wyoming to work as a sheep herder and spend the winters as a bank guard. Lucien had a much older sister and he was close to his mother, but when Dave Kammerer took him on as a protege, and the boy was just 11, maybe 12, that was his dad. He had a dad then.
Kammerer wasn't motivated by lust primarily. It's clear. It's more like Pygmalion and Galatea, where Pygmalion makes a sculpture of the most beautiful woman and brings her to life. She's his own creation. Lucien Carr was very much David Kammerer's creation that killed him.