Monday, November 17, 2008
Name: Matt Ratt
Age: 21
Sign: Aquarius
Hometown: Middle Earth
Time in Lawrence: 3 years
Occupation: Pipe Slinger
What were you doing when scouted: Talking about psychic energy.
Favorite places? The Replay Lounge, Jensen's Liquor, Henry's, and the Social Service League.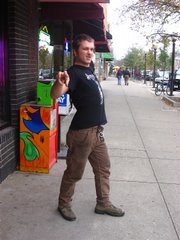 How would you describe your style? Aragorn with a hint of Orc
Where do you get your hair cut? Mobile Village, trailer 5
Favorite trends? Lame, sequins, glitter, tight pants on boys, muffin tops, capes, and Spandex.
Least favorite trends? Flip-flops, open shirts on dudes, and anything that juggalos wear.
Tattoos/piercings? I have a tramp stamp that says 'tease' that was done at Joe's, some veggies tattooed on my arm by a friend, and a Denver watch on my hand. And various piercings, obviously.
Favorite coffee shop? I like Henry's, because Alicia's awesome and they have a really good crossword puzzle posse.
Favorite bar? The Replay and the Jackpot when Rob is working. I like the patio at Replay, and I like that you don't have to talk to people all the time when you're there.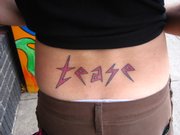 What would you like to see more of in Lawrence? PDA, drag, cowboys, and more photo booths.
What would you like to see less of? KU apparel, cars hitting people on bikes, and straight faces.
Who are your fashion influences? Prince, RuPaul, and home bums.
People say I look like: Matthew McConaughey, a young Bon Jovi, and Johnny Castle in 'Dirty Dancing'.
Tell us a secret: I've got a scandalous collection of polaroids of myself.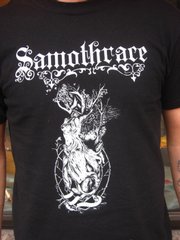 PRICE OF CLOTHING:
Shoes: Columbia, from REI, 3 years ago for $60
Pants: a friend gave them to me, 2 months ago
Shirt: Samothrace band t-shirt, purchased at their show 2 weeks ago for $10
Ear gauge: self-made
Noserings: from Creation Station, $25