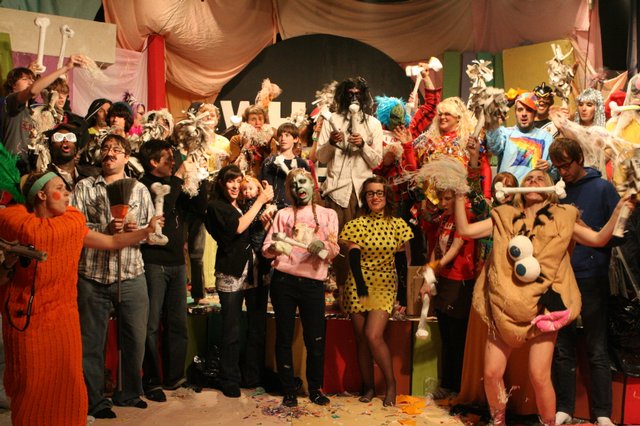 Monday, November 17, 2008
Flip on the TV anymore and much that is flashed back is grim: war and death, crashing economies and lost jobs, drowning polar bears-it's enough to bring anyone down.
What if the sights that greeted you were instead things like a fun-loving giant box of French fries trying to cheer up a sullen werewolf? Or some dancing grannies and a gospel choir that's lovin' life so much it hurts?
That's the stuff of Whoop Dee Doo, Kansas City's imaginary-but real!-television show. Whoop Dee Doo is actually a live event staged as if it were a public access program. It's been providing ebullient, dance-happy, kid-friendly shows since 2006.
Each show busts at the seams with all kinds of performers and volunteers from throughout the community. Past performances have included local gospel choirs, Celtic bagpipers, African drummers and clog dancing troupes, and live bands like Tilly and the Wall and the Ssion.
A Whoop Dee Doo fÃte is structured like a talent show and attendees are encouraged-REALLY encouraged-to wear costumes and participate along with the array of dancers, musicians, actors, and artists.
The creators, directors, and hosts of the Whoop Dee Doo experience are Jaimie Warren and Matt Roche. They sat with us at La Esquina in the Crossroads District in KC to talk about what's the big whoop dee doo...
lawrence.com: What influenced you in creating the show?
Jaimie: The influence is from this Chicago public access show called Chic-A-Go-Go. The premise is that anybody can just come off the street and dance and it's basically just dancing to music. It kind of makes this really awkward assemblage of people ... like homeless people dancing with five-year-olds to random songs. Their shots are really long and awkward, like it'll be on one kid for a full minute and it's just really slow - but that's what makes it cool.
We started thinking about that because Kansas City is kind of a smaller art community and it makes you branch out to other communities, which is what makes it interesting and weird at the same time. It's all different sorts of community members and us trying to get everyone in the same room at the same time, which they wouldn't normally do. It's all about keeping it weirder and more different every time.
Why did you guys decide to do a faux television show instead of just a theater piece?
Matt: It seemed like all of the things that interested us that seemed to influence the things we were doing about the show were from public access TV shows or PBS shows. So it just seemed like it made sense.
Jaimie: Plus I think we do want it to be a real show one day. A lot of TV now is also going internet-only. The cool thing about the internet is that you have a worldwide free audience.
Matt: A lot of internet programming has that same sort of appeal of being low-key, local. It looks like it could be made in someone's bedroom. In some ways it is way better than high-budget TV.
Jaimie: We use the past clips of the shows we do to promote to other places because we would like to continue to travel like we did to Omaha. As of two weeks ago, we got invited to Deitch Projects, which is in New York City, so we'll be doing their holiday party in this big space.
That's great-how did that come about?
Jaimie: Yeah, that was us contacting them and setting up a meeting and a proposal. I think last year it was Michel Gondry and Bjork, so it's like 'what?'
Matt: They can hitch their ride to our wagon now.
What lead you to do something so utterly kid-friendly?
Matt: It's just a nice atmosphere working towards something that's kid-friendly because you have to stay in a certain mindset and keep trying to focus on more lighthearted or upbeat thoughts. I think it helps to keep people in a good mood and feel good about what they're doing. It should be this fun, friendly thing and not this creepy, confrontational thing.
Jaimie: Or this controversial art school BS or whatever.
What have been some of your favorite performers?
Jaimie: The Ssion has always put on great shows, great music videos.
Matt: Drumlines-we've had really good luck there. We had the Marching Cobras here in Kansas City, and that was I think the high point of any of the shows here.
Jaimie: It was funny because they are such a huge group-there's like 80 of them and our stage could fit maybe a tenth of that. They were everywhere. Everyone also loves the Midwest Cloggers-they were probably nine- to 16-year-old girls. It's more about the combination of everything together when you see it. We saw them at the County Fair.
Were you scouting?
Jaimie: Totally. There were maybe five people in the audience there, and then they come here and there were 200 people there and they were just screaming, they were so excited.
Matt: Oh, the looks on their faces.
What about audience favorites?
Matt: There was an act in Omaha called Carnal Topor. They were doing their soundcheck/rehearsal the morning of the show, and I thought I was gonna go nuts. It was just really menacing and terrifying and I thought the kids were gonna be horrified. When they performed they were one of the last acts and the kids turned out to be totally into it.
Jaimie: They brought up this geodesic dome thing, like one of those playground structures, and these little girls climbed all over it and seemed really hypnotized by this guy, Ashley Miller, who was doing this spoken-word kind of stuff. It was one of those weird, questionable moments but that's what makes it interesting.
Matt: If you had described to the parents beforehand that this guy was going to have their kids in a geodesic dome chanting nonsense back and forth with him none of them would have gone anywhere near it, but somehow it was heartwarming when you watched it, and it totally made sense.

Highlights from Whoop Dee Doo!


Ssion sang Whoop Dee Doo!


A spellin contest!