Tuesday, November 18, 2008
I've always been a sucker for a good trivia game, which is why I was so happy when Microsoft released Scene It along with four buzzers for $59.99 a while ago. The buzzers were perfect, and non-gamers could jump right in without having to worry about learning a complicated control scheme. Buzz Quiz TV for the Playstation 3 is basically the exact same bundle deal - 4 buzzers and a game, although it comes equipped with online play and questions that cover more than just movies.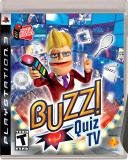 It does a fantastic job of emulating a TV game show, complete with a cheesy host and a set that looks like the interior of a UFO (a la Deal or No Deal, 1 vs 100, Who Wants to be a Millionaire, etc). You'll start by picking your favorite stereotype as your avatar, and the rest is standard game show fare. Playing the game is as simple as pressing the button on your buzzer that corresponds with your answer.
Buzz is a great time if you're playing with some friends, but it's even better when you take it online. There's a great Sofa vs. Sofa mode that pits everyone in your living room against everyone in up to three others. Working as a team is great, and you can do pretty good if you're got some friends with varied knowledge bases. You can even make your own quizzes online and Buzz players around the world will be able to access and rate them.
Considering there's already a huge amount of available questions (not to mention the downloadable packs), the online options add an almost limitless amount of replay value. It's a great title to have laying around when you've got company over, and well worth the purchase.
Graphics: 7.5
Sound: 8.0
First Play: 9.0
Replay value: 9.0
Gameplay: 8.5
Overall: 8.5