Tuesday, November 25, 2008
Name: Elizabeth Lorkowski
Age: 24
Sign: Aries
Hometown: St. Louis
Time in lawrence: I lived in Lawrence for about four years, but I currently live in Houston.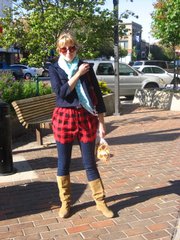 Occupation: Education & Outreach Associate
What were you doing when scouted: I was taking pictures of the fall colors.
Favorite places: Milton's, Aimee's, Zen Zero, and Urban Outfitters, because I used to work there and I get to see all of my old friends.
How would you describe your style: I would say my style is comfortable, for sure. I like to mix and match. Basically, I'm just myself!
Where do you get your hair cut: Cut Loose in Houston. Bumble & Bumble all the way.
Favorite trends: Long shirts, flat shoes, and deep v-necks.
Least favorite trends: Big, crazy obnoxiously printed t-shirts.
Tattoos/piercings: I have a lizard tattoo on my hip that was done by Freaks on Broadway in Kansas City.
Favorite coffee shop: It has to be Milton's because I love their breakfast. I also like Aimee's because I used to get cookies there when I was on my break at work, and I like their raspberry Mochas.
Favorite bar: I like the Replay because that's where the posse meets up at. I also enjoy the Pig; it's really nice and calm and small.
What would you like to see more of in Lawrence: Nothing! It needs to stop changing at keep its true essence.
What would you like to see less of: Aggressive riffraff.
Who are your fashion influences: Annie Biddison, and Marie Claire magazine.
What's in your purse: Phone, wallet, Rosebud Salve lip balm, hand sanitizer, my old KU, a coupons.
Tell us a secret: I love to do laundry, I do it almost every day of the week.
PRICE OF CLOTHING:
boots: Urban Outfitters, purchased 3 years ago for $85
jeans: BDG, purchased yesterday for $54 at Urban Outfitters
shirt: also purchased yesterday, can't remember the price
jacket: Kimchi & Blue, purchased 2 years ago for $5 on sale
scarf: Gap, purchased this summer for $12
necklace: a gift, made by a local Texas jewelry designer
sunglasses: Urban Outfitters, $20
purse: Kohl's, this past year for $12
waffle chips: purchased today at Sylas & Maddy's for $2.50
More like this story on Lawrence.com