Sunday, November 30, 2008
Sarah Fertig, Senior lawrence.com Seasonal Sports Hysteria Correspondent, government watchdog, is currently running on the treadmill while watching ESPN and ESPN2 simultaneously
The new KU basketball season is upon us. Are you completely fetal yet? What advice do you have for those who are similarly afflicted with the twin terrors of Crimson Fever and Blue Balls?
"Surprisingly, I'm not freaking out at all. True, I spent most of last season in an apoplectic fit. After the heartbreaking NCAA Finals loss in 2003—damn you, Carmelo Anthony!—I think most fans had regained enough hope to be tortured by another real chance of winning the championship. You had to maintain a delicate balance of hoping without jinxing. Like other rabid fans, I hold the irrational belief that I have the power to lose basketball games by being too optimistic—jinxing—or not optimistic enough insufficient hope. That's a lot of pressure. But as the cliché goes this is a rebuilding year, so expectations are lower and the uber-fans can relax a bit. I may even watch a game outside my house, which is a big step. Last year I avoided group game watching because I couldn't run the risk of being hit with a stray jinx from some drunk blabbermouth. People can be so careless."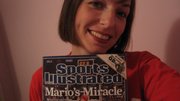 Are your expectations for this season raised to excruciating heights after the holy shit storm of the Championship? Or are you resigned to the fact that, much like a has-been child actor, the basketball program will never again attain such perfection and descend into drug abuse and trannie shopping?
"Last year was just too much—we teetered on the brink of total awesomeness the whole season but didn't go full awesome until the UNC game. During that game, my boyfriend and I suspected that we were either dreaming or dead and in heaven because at one point we were up by something like 40 points! Against Roy Williams! After every sportscaster wrote us off! It was crazy! After that, I was totally satisfied with the season. The championship was icing on the cake. As for this year, the pressure is off and I'm going to attempt to simply enjoy watching our little freshman seedlings grow into superstars."
If you had to pick any KU basketball figure in history to rub their ding-dong against you in an elevator, who and why?
"Ew. I'm pretty sure most of the ding-dongs from recent rosters should be quarantined by the CDC. Except for Wayne Simien, who by all accounts is a stand-up, non-sexually opportunistic guy. He would be the least likely to give someone syphilis or bubonic crabs. But still—ew."
After scouting this fresh faced bench of talent, who are the candidates for your new "boo" of the season? Explain your "boo" selection process and the privileges that bestows upon the recipient.
"In days of yore, a maiden would select her favorite knight and bestow her favor upon him during horse-based athletic events. Or so sayeth the Renaissance Fair. It's the same thing for me. Every year I have a favorite player that I root for. I choose based on flair, i.e. Julian Wright; underappreciated talent, i.e. Hinrich junior year, Sherron his freshman year; amusement, i.e. Graves; or general bad-assery, i.e. Langford. Twice I picked the 'cute one' and was hugely disappointed both times. One got stabbed, the other started singing country songs and found religion. So it's safe to say Conner Teahan will not be my favorite. This year my boo is Cole Aldrich, who was amazing against bug-eyed Tyler Hansbrough in the KU-UNC game last year. He also played it cool against Memphis even when scary Joey Dorsey shoved him."
When getting baked-as-hell with Mario Chalmers and Darrell Arthur, is it best to just not mention Roy Williams?
"Oh sweetie, those guys don't care about Roy. They were Bill recruits. It would, however, totally riff their chill to bring up Stephen Curry, who almost derailed us in the Elite Eight last year. Or the Southern Illinois Salukis, who almost derailed us in the Sweet 16 in 2007 and played like actual salukis pumped with rabies and/or meth. Or if you really want to bum them out, mention the NBA fines they paid after being caught with pot last time."
Since we absolutely condone gambling here at lawrence.com, what are your predictions for this season?
"I'm optimistic about our freshmen, but our team is too young to seriously expect a Big 12 title or only 3 losses like last year. But, remember that in 2005 our freshman class included Super Nintendo Chalmers, Brandon Rush and Julian Wright, so our new guys could turn out great. I'm especially psyched about the Morris twins, who will likely be my dual boos next year. Sadly, I think UNC could take the championship if Hansbrough heals up. If we bow out of the tournament early, I'll be rooting for Oklahoma – I would love to see Blake Griffin stuff Hansbrough like Cole did last year. P.S. I don't actually hate Tyler Hansbrough. I respect that he got his nose broken by a Duke player 2 years ago. I am just tired of hearing about him."