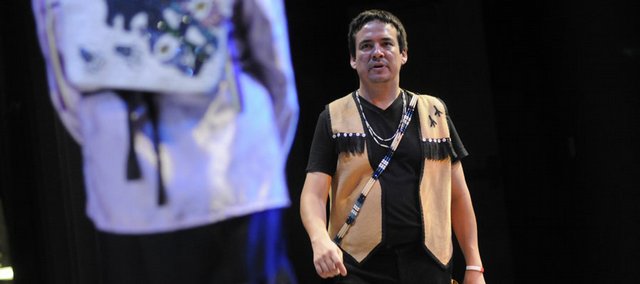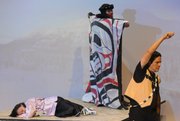 Past Event
Friday, October 3, 2008, 8 p.m.
Lawrence Arts Center, 940 New Hampshire St., Lawrence
All ages
During the last few months, Alaska has come to signify far more than just being a big, cold state.
For Allan Hayton, an Athabascan Indian raised in his indigenous Alaska, the state embodies an even deeper cultural identity.
Hayton employs his skills as an actor, storyteller and playwright to spin tales that celebrate his heritage.
"I talk about the land in Alaska and how it can be 70 below in winter and 110 in the summer, so it's the land of extremes ... and extremists running for public office," he says, laughing.
Hayton will join actors from the American Indian Repertory Theatre to present "ReGenerations: A Celebration of Our Journey and Transformation." The production runs today and Saturday at the Lawrence Arts Center, 940 N.H.
"With this show, people may expect it to be all traditional when it's very contemporary," says Hayton, a 1988 graduate of Haskell Indian Nations University and 1992 graduate of Kansas University.
"It's a real mix. They're not just stories that were written in stone then passed down. There are traditional ones from my people blended with my own personal story."
The performance is structured in three sections. The first mines traditional Athabascan tales, such as the one about a woman who married a bear. The second concerns Hayton's attempt to assimilate into a small Alaskan community and his eventual relocation to Kansas. The third delves into the effect industrialization has on native cultures, specifically with regard to the Alaskan pipeline.
"Allan is a wonderful storyteller and actor," says playwright Dianne Yeahquo Reyner ("Weaving the Rain"), who is helping direct "ReGenerations."
"He's very powerful in his presentation. And his willingness to do that second section has been very impressive to me - it's much easier for a performer to perform by putting on other images, and it's much more difficult to perform as yourself."
Fitting in
Born in Massachusetts, Hayton was the product of a white father and an Athabascan mother.
At the age of 4, his parents separated, and he relocated to the Venetie Reservation in northeast Alaska with his mother and sister.
"When we moved to the village, my sister and I were basically beaten (by other kids) every day the first summer for being half-breeds. I think we were only the second siblings there that were half-breeds. Other than that, everyone else was a full-blood Athabascan. There was no English spoken, so I consciously made the effort to learn the language by sitting with elders and listening to their stories."
Hayton enjoys vivid memories of watching conversations the village elders had while they sat around a table playing cards.
"They were always full of stories and jokes, which would range from the latest gossip around town to some more serious subjects. I really admire those elders and want to continue their spirit."
A tragedy in his teens (which he discusses in "ReGenerations") led him to get his GED after previously dropping out of high school. A school counselor suggested he look into Haskell, despite the fact Hayton was completely unfamiliar with the Midwest.
"I'm always asked, 'How did you end up in Kansas?' I have to give them the short answer. The long answer is part of the show," he says.
In the late 1980s, Hayton discovered acting while taking the part of Ferdinand in the Thunderbird Theatre production of "The Tempest." After graduating Haskell, he began work on his theater degree at KU.
Upon graduation, Hayton returned to Alaska, where he tested his acting and language skills in numerous productions. Standouts included the reinterpreted title role in "Othello" as an Aleut in Russian-period Alaska; Duncan (and other characters) in a Tlingit language production of "Macbeth" at the National Museum of the American Indian in Washington, D.C.; and as political activist Roy Peratrovich in the PBS documentary "For the Rights of All: The Alaska Civil Rights Story."
Alaskan curiosity
With its blend of monologues, drama, traditional instruments and unique subject matter, "ReGenerations" promises to be a cultural treat.
"I can't think of any other production that would be comparable to it," Yeahquo Reyner says. "It was developed specifically for the American Indian Repertory Theatre. My hope is that after this presentation, Allan will be able to strengthen this piece and perform it on a personal, professional level across the country."
That's certainly Hayton's plan. The 39-year-old performer has been living out of a suitcase for the last two years while exercising his theatrical skills in cities all over North America.
Not surprisingly, wherever he goes he fields plenty of questions about the Land of the Midnight Sun. He hopes "ReGenerations" will help serve as a response.
Hayton says, "I'm sure people have been hearing a lot about Alaska lately, so they should come check out the show. They'll hear a lot of stories that Sarah Palin isn't telling."