Courtney Gray, nursing student, massage therapist, pool hustler, crosswordsmith
How do you save money?
"By not spending it on things I really want to spend it on-willpower, basically. I stop myself from spending money when I shouldn't, or I'll dip into the change jar. I save up for bills, then rely on change. I take advantage of two-for-ones and sales whenever I can. I love pool and cheap beer at the Bottleneck on Sunday nights. I get a lot of free shit with a wink and a smile. I'm just blessed with free shit through charm and grace. I got free pool tonight by smiling at the bartender. I got free books from the Library book sale yesterday, but that doesn't count as free shit somebody gave me. I also love the Social Service League. I go there all the time to get fabric for my sewing. You can get a ton of stuff for five bucks. I make clothes, jewelry and mosaics. I make art by using things I find, so that saves on supplies."
What do you splurge on?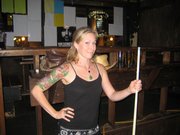 "Bills and fun stuff to do with my daughter. After that, art supplies, beer and pool. I pretty much splurge on Indian food and sushi. I get massages twice a month-it's therapeutic and helps me relax. It loosens my tight muscles so I can zone out for an hour and meditate."