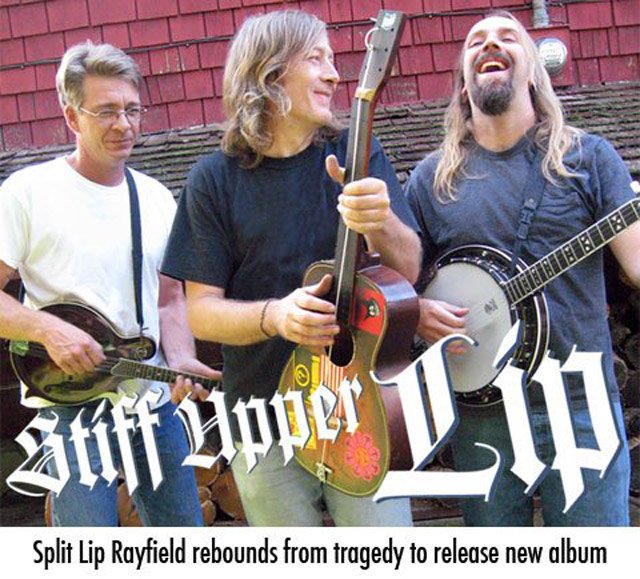 Split Lip Rayfield started taking shape about the time Bill Clinton was getting situated in the oval office. Neither Eric Mardis, Wayne Gottstine, nor Jeff Eaton figured they'd still be going at it 14 years later, nor did they figure they'd have to persevere through something as difficult as losing their friend and collaborator Kirk Rundstrom to cancer. That tragedy nearly derailed the band, but the trio has been picking up steam and new fans ever since returning to the stage a year ago. The group's fifth studio album "I'll Be Around" is its first collection of new material since 2004's "Should Have Seen It Coming." It's vintage Split Lip: blazing-fast banjo licks balanced by high-lonesome ballads and a healthy sense of humor. All three Rayfields stopped by our podcast studio to spin the new disc and share their thoughts on necromancy and the new Metallica record.
No-fi highlights from the podcast
lawrence.com: When did you officially put out "I'll Be Around"?
Eaton: It's been more of a soft release. I printed up 500 copies before we make the mass-produced ones.
Mardis: It was kind of a stopgap for a short Colorado tour and Winfield. Jeff did a great job hand-printing them. We've done that on all of our records actually.
You look like you're about to fall asleep, Eric.
Mardis: Yeah, I'm told that often.
Eaton: He's the sleepiest Rayfield.
Mardis: I've got three kids. I get up early.
Did you go down to Winfield this year for the Walnut Valley Festival?
Gottstine: I did. It was a very different Winfield because it was flooded out and everyone camped at the lake instead of the fairgrounds. So while it was excellent camping adventure, it wasn't so great as far as jamming with people you only get to play with once a year. It was so spread out and everyone's camp was dislocated.
Eaton: I think I saw Wayne twice the whole time I was there.
Did you perform or just hang out?
Mardis: I wasn't able to go. I had to work and herd children and practice banjo 10 hours a day.
Eaton: So you've been coming over to my house secretly while I was away.
Mardis: Yeah, I guess my banjo has been sitting at Jeff's house for two weeks, so that's not true. But I practice air banjo all the time.
What did it mean to you guys to put out this new record?
Mardis: It's been really good to add new songs to the set list and mix it up a little bit. We've been performing as a three-piece now for about a year. Songs started to come out so we started kicking them around and figuring out whether to stick with mandolin, banjo and bass or start playing some guitars. We decided that on the record Wayne would play guitar on his songs and I would play guitar on mine. I think we just needed to get into that creative space as songwriters. We play shows, and that's fine, but it feels really good to have a new record and we're all really proud of it.
Any new directions or things you're particularly proud of?
Eaton: I think it's the most melodic record we've done. The song crafting is really diverse. And I think it might be the first time we've actually done a heavy metal song.
No kidding. Which one?
Eaton: Eric's song "The High Price of Necromancy."
Mardis: It's a silly song, really. As a songwriter, certain stuff comes out. That's one in a series of tunes that have been informed by my youthful indulgence in role-playing games like Dungeons & Dragons and fantasy novels and stuff like that. It's really kind of an argument about how it's not worth it to pursue necromancy, because you don't end up being very powerful and there are a lot of bad side effects cosmetically.
For those not familiar with the practice of necromancy, perhaps you could explain:
Mardis: It's different than necrophilia, although they're not mutually exclusive. Necromancers are probably into that because they're lonely I assume. A necromancer is someone who dabbles in raising the dead, animating dead tissue, skeletons and zombies and that sort of thing, and maybe the occasional curse. They're usually a kind of minor magical force.
What other topics are covered on this record?
Gottstine: Loneliness, personal suffering, joblessness-things like that.
Mardis: Normal happy family stuff.
How's that old stitchgiver (gas-tank bass) holding up?
Eaton: It's doing pretty good; 14 years old this summer and still going.
How is puberty affecting your instrument?
Eaton: It's doing ok, but it's starting to get some new hairs in some weird spots. It's pretty self-conscious.
How long has it been since Split Lip started?
Eaton: About 14 years ago, because it was shortly after I made the bass that Kirk and I started learning some songs together.
Is this something you guys would have seen lasting 14 years?
Eaton: No : I was just building something to plunk around on at home for fun.
Mardis: Do you mean the bass or the band?
The band.
Mardis: The bass I could see lasting forever because I thought it would just be a conversation piece. When I saw it come out of the back of his van I was like, 'Uh huh' : I'm impressed still.
And the band?
Mardis: Yeah, I wouldn't have seen that lasting either honestly. But I'm glad it has. It's just had a weird life of its own. Wayne and I have both taken sabbaticals from the band and it just keeps drawing us in : it's fun and it calls to us.
What else are you guys up to?
Gottstine: I play in a rock band called The Sluggos. I've also been playing with Freedy Johnston lately.
No kidding. Is he back in Kansas?
Gottstine: He's in Wichita actually. We have a bunch of shows in October.
Mardis: I play in Snake Bite with Calvin Bennett and Ryan Johnson. Those shows have been really fun lately : It leans towards heavy stuff and all the guitar solos are like eight minutes long and there are lots of them. It's a ridiculous overstatement of everything. And then Floyd the Barber is still going and I play with The Hearers every once in awhile.
Can you tell us about the memorial photo gallery for Kirk you have up on splitliprayfield.com?
Mardis: We just wanted to share some of the funnier pictures : People have submitted a bunch of pictures and we love that. We want to add a bunch more.
How did Kirk's memory play into this record?
Mardis: I missed him a lot when we were in the studio and during the whole writing process. I was thinking about how things would play out were he here, because he was a pretty strong personality. I felt like he was definitely present.
Gottstine: Definitely so. I think it affected the way we attacked making this record. We didn't fuck around at all.
Mardis: We gave it a very Rundstrom approach.
Do you still perform his songs at shows?
Mardis: Actually we don't. Not to say that we won't at some point, but I don't think any of us are really ready for that. There will be a point maybe. People always yell for "Outlaw" still and we don't play it : If anybody should, it would be us I imagine.
Eaton: Nobody really knew what it was going to be like until we were actually there in the studio. It was definitely different. We just took it for what it was and went with it. »