Saturday, October 11, 2008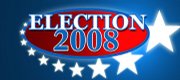 In-depth coverage of the candidates and the issues, all leading up to the Aug. 5 primary and the Nov. 4 general election.
State Sen. Roger Pine, who has faced criticism for claiming to be a Lawrence resident while living in Leavenworth County, has resigned from a Douglas County board.
Pine resigned from the Douglas County Kaw Drainage District Board last week following questions about the board's finances, according to a report by the Topeka Capital-Journal.
Pine did not return calls to his home Saturday.
Board member Mike Heck said Pine, who served as the board's treasurer, resigned because of a residency requirement recently brought to the board's attention.
"In my opinion, there's absolutely no problem with the way Roger Pine handled the finances of the board," Heck said.
Board payments
According to the Capital-Journal report, since 2002 the board, financed by local property taxes, paid roughly $25,000 to Pine Family Farms for work, and payments have gone to other board members or companies tied with board members.
Questions about Pine's residency led to questions about his role as the board treasurer.
Board member Arch Naramore said he was new to the three-person board and had had questions about the board's bidding process.
"I brought up concerns about the fact that we weren't putting things out to bid," he said. "We discussed it. Our attorney looked into it and said you don't have to have bids unless it's over a certain amount."
He said he didn't know what that amount was, but viewed the board's actions as acceptable because there hadn't been any "major expenditures."
The Capital-Journal also reported Pine wrote $900 checks annually to himself and fellow members for "consulting," while representatives of other drainage boards in Douglas County served for free.
Heck said that any bill paid by the board is done so by the board's vote. He said they meet in the office of their legal counsel, who is now Price Banks.
"We've always believed we've been acting in the bounds of the law on that," he said.
Residency questions
Pine's residency was called into question in August during the Republican primary when a poll worker challenged his status as an eligible Douglas County voter. Pine has lived in Linwood since 1999 but had continued to vote at a polling station near his family farm in Lawrence.
"You don't have to reside within the drainage district, but you have to be a resident of the county that the district is within," Heck said. "So Roger meets the first test but not the second."
Another requirement to serve on the drainage board is that you have to be a property owner, Heck said.
Pine told the Capital-Journal that rather than challenge the assertions, he thought resignation from the board was the best alternative, "especially in the political arena I'm in."
Naramore said Saturday he had learned from Heck that Pine resigned. Naramore said that until recently, he understood that land ownership was a requirement for membership on the board, but he had not been unaware that members had to live in Douglas County.
"If that's what the law is, then he had to resign : or else move," Naramore said.
The drainage board works with city and county officials on water drainage issues. They keep tributaries clear of brush, trees or other blockages.
Upcoming elections
Pine is up for re-election on Nov. 4 to represent Senate District 3, which includes North Lawrence, much of eastern Douglas County, including Eudora and Baldwin City, all of Jefferson County and much of Leavenworth County outside the cities of Leavenworth and Lansing.
Pine's Democratic opponent and current state Rep. Tom Holland, of Baldwin City, said this issue should not be ignored. In an e-mail response to questions asked by the Journal-World, he said:
"Senator Pine's abrupt resignation and refusal to comment is an unfortunate incident where it appears an elected official has abused the public trust and is trying to cover up something. Senator Pine owes the citizens that are under the jurisdiction of the drainage district board, and the constituents of this senatorial district, a full explanation. In order to protect the taxpayers' monies, a full financial audit is warranted."
More like this story on Lawrence.com