Tuesday, October 14, 2008
GREAT DEPRESSION II: DEPRESS HARDER
The economic crisis continued to take its toll on Wall Street, with the DOW dropping below 10,000 last week for the first time in 4 years. Treasury Secretary Henry Paulson, in a drastic move not seen since the Great Depression, proposed the federal government should take partial ownership of certain banks to unfreeze credit and lending. The crisis has metastasized worldwide, forcing European leaders to take similar measures. *:President Bush addressed the nation to try and calm nerves: "My fellow Americans, as Franklin Roosevelt once said, 'The only thing we have to fear is fear itself-and zombies wandering the face of the earth following the inevitable economic apocalypse.' He was truly one of our greatest cripple presidents."
ELECTIONEERING BOOGALOO: ONGOING COVERAGE
Most observers and pollsters saw the second presidential debate last week as another victory for Barack Obama. John McCain's performance was criticized as uneven, exemplified by his wandering around on stage and at one point referring to Obama as "that one." The final debate is Wednesday night. In other political news, an independent investigative report on Sarah Palin's involvement with "Troopergate"-in which she's accused of abusing the governor's office to get her sister's ex-husband fired from the Alaska state police-found that Palin had indeed violated state ethics laws. *:The town hall debate was filled with undecided voters, a voting bloc political scientists refer to as "morons who apparently haven't noticed there's been a history-altering election going on for an entire year." The "Troopergate" report found Palin had "abused her power and behaved in a bullying and clandestine way unbefitting of the office-in other words, Vice Presidential."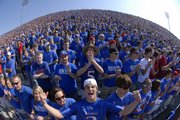 BEHEAD OF THE CLASS
Coach Mark Mangino, in a video that was sent via email last week to every KU student, asked that fans no longer chant "Rip his f*cking head off" during kickoff at KU games. His request was ignored at Saturday's game against Colorado. *:Following the game, the crowd voted to impale the losing Colorado team on spikes in the end zone, then flooded marble columned vomitoriums so as to make room for more blind consumption, and generally signaled the fall of our empire.
COMPULSIVE REGISTRATION
The deadline for voter registration in Kansas is Monday, October 20th. Visit voteks.org to get a registration form or find out if you're properly registered. *:Remember kids-if you don't vote, you're a twat weasel!
COCK BROKERS
Lawmakers were furious last week when it was revealed that, a few days after the federal government unveiled an $85 billion bailout package for the insurance company AIG, executives from the firm went on a week-long retreat to a luxury resort in California. The $443,000 trip, involving golf and spa treatments, spurred Barack Obama to call for everyone involved in the retreat to be fired and the cost reimbursed to taxpayers. *:Congress reconvened in a special session to add an amendment to the bailout package which would legalize 240th trimester abortions in the case of AIG executives.
CHIHUAHUAGEDDON
"Beverly Hills Chihuahua," the Disney comedy about talking dogs, has topped the box office for the second week in a row. *:Gene Shalit called the film "a festering and putrescent abomination that shames not only those who made it, but Western Civilization as a whole-that is to say, it's a dog-gone good time that tickles your funny bone!" Shalit was later found dead of an apparent suicide involving auto-erotic asphyxiation with his bow tie.
HACKE-MOM
The 20-year-old accused of hacking into the email account of Republican vice-presidential candidate Sarah Palin was indicted last week. If found guilty of illegally accessing Palin's email, David Kernell could face five years in prison and a fine of $250,000. *:Kernell allegedly posted screenshots of Palin's e-mail account online, which revealed an inbox overflowing with Facebook invitations to militant Alaska separatist groups and Youtube links to aerial wolf hunting porn. »