Tuesday, October 14, 2008
Hannah Jensen
Age: 18
Sign: Gemini
Time in Lawrence: 2 months
Occupation: Student at KU
What were you doing when scouted? Going to a poetry reading at Henry's.
Favorite places? Wild Man Vintage, Java Break, The Mad Greek, and Urban Outfitters.
How would you describe your style? I usually try to find cheap clothing, and I usually wear a lot of vintage.
Where do you get your hair cut? Supercuts, or sometimes I get it done in Kansas City.
Favorite trends? Pencil skirts, for sure...that's my fave right now. I also really like wearing interesting jewelry and accessories.
Least favorite? People that wear leggings and spandex pants, and graffiti and graphic t-shirts.
Photo Gallery
Style Scout: Hannah Jensen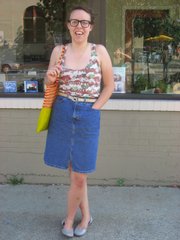 Favorite coffee shop? I just tried the Bourgeois Pig for the first time recently, and I really do like it. They have really good coffee.
Favorite places to hangout? I usually go to a lot of concerts at the Granada and the Jackpot.
What would you like to see more of in Lawrence? I would like to see more little boutique clothing stores, and more vintage clothing stores. I also would like to see more bike lanes because some of the drivers here are scary. I'd also like to see more fashion individualism.
What would you like to see less of? Less KU apparel.
Who are your fashion influences? I get a lot of inspiration from reading magazines like Nylon and even checking out the Urban Outfitters catalog, mainly for just seeing the way they put outfits together. I also really like Natalie Portman's style, she always looks cute.
What are you listening to right now? Devendra Banhart, Fleet Foxes, and Lykke Li. I just bought her CD at Love Garden.
Tell us a secret: I have a really sensitive nose.