Tuesday, October 14, 2008
Sir Jamaal Washington
Age: 19
Sign: Scorpio
Hometown: Lawrence/Orlando
Occupation: Unemployed
What were you doing when scouted? Walking downtown and hanging out.
Favorite places? Wild Man Vintage, dark alleyways, Solidarity, Liberty Hall, and Love Garden. I like Peking Taste, and late nights at Pizza Shuttle.
How would you describe your style? A little bit of fly shit, a little bit of wack shit, and mostly the things and the essence of great.
Where do you get your hair cut? Sometimes in my bathroom, or the Downtown Barber Shop, or Watson's. It depends on how much money I have.
Favorite trends? I like Cazal shades, Vans...but not the ones that look like sneakers, African Adorned style earrings and bizarre clothing.
Least favorite? People who buy 'edge' from Urban Outfitters, messenger bags, leggings as pants...I like subtle sexiness. And any kind of bro clothing.
Photo Gallery
Style Scout: Sir Jamaal Washington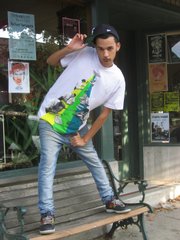 Tattoos/piercings? I have a G Clef tattooed on my finger, because I'm married to music. I got it done at Joe's.
Favorite coffee shop? Aimee's, bar none. They have great food and zero yuppies in there.
Favorite hangouts? I like to stay in and watch movies and drink assorted organic juices. I also like to walk around downtown.
What would you like to see more of in Lawrence? I would like to see more people of color and all different ethnicities. I would also like to see North Lawrence and West Lawrence sanctioned off. I also would like to see more of the girl who works at African Adorned. I have a crush on her. She makes my heart beat double time.
What would you like to see less of? Bros. Yuppies. Counterculture suburban kids. People who don't know anything about politics.
Who are your fashion influences? Pharrell Williamns, Bjork, and Christian Joy, who is the designer for Karen O of the Yeah Yeah Yeahs. And Fabio.
People say I look like: A million bucks
Tell us a secret: "Now and Then" is my favorite movie of all tme. I have a crush on Christina Ricci.