KCMOBAMA
Barack Obama spoke in Kansas City and St. Louis last Saturday, drawing 75,000 in KC and a record-breaking crowd of 100,000 in St. Louis. *:John McCain spoke in Belton, Mo. on Monday to a close-to-capacity crowd at the local Red Lobster. The Belton Fire Marshall reported that a majority of the 32 attendees at the rally/Lobster Fest were Palin offspring.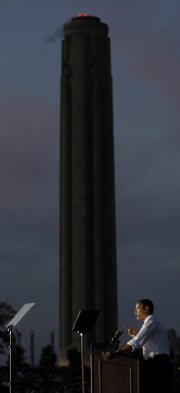 ELECTIONEERING BOOGALOO: ONGOING COVERAGE
Last week saw the third and final presidential debate, and polls indicate that Barack Obama was once again considered the winner. The debate was dominated by references to "Joe the Plumber," an actual Ohio plumber who John McCain repeatedly addressed as an example of small business owners who would be affected by Obama's tax plan. Joe "The Plumber" Wurzelbacher, who is not licensed to be a plumber and actually owes over a thousand dollars in back taxes, was forced to admit that Obama's plan would actually cut his taxes. In other campaign news, Obama was endorsed by former Republican Secretary of State, General Colin Powel. Obama's campaign also announced they had raised a record-breaking $150 million in September, a majority of it in small donations averaging $84 from over 3 million contributors. *:The McCain campaign points to Joe the Plumber as an example of how their economic plan assists tax dodging assholes on both Main Street and Wall Street. Obama, riding a crest of fund raising and high-profile endorsements to comfortable leads in the polls, is now spending a majority of his time on the stump simply reading aloud "Doonsebury" comics and discussing his favorite kinds of pie.
PURRVERT
The Lawrence "Cat Ripper" has seemingly struck again. A third mutilated cat was discovered in the same neighborhood of West Lawrence last week where two felines were previously found dead. Police are investigating whether the string of incidents is the work of man or animal. *:Investigators are looking into a possible connection between the cat vivisections and the recent creation of KU's School of Serial Killing and Animal Torture Sciences.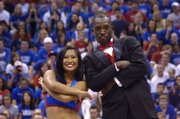 PHOGGY STYLE
The KU basketball season unofficially began last week with the annual Late Night in the Phog at Allen Field House. Thousands of fans were treated to a practice session of the new KU men's and women's teams, as well as the unveiling of a banner commemorating the Jayhawks' championship season. *:Fans also marveled at fast-paced shoe measurements, shirts vs. skins contract negotiations, and scrimmage floor waxing.
BALLOT BLOX
In the ongoing battle between Democrats and Republicans over voting access, Democrats scored a victory last week when the Supreme Court overturned a Republican lawsuit that would have called into question over 200,000 voter registrations in Ohio. Republicans continued to accuse community organizing group ACORN of fraudulent voter registration, spurring an FBI investigation. A recent non-partisan study by the Brennan Center for Justice also found "systematic" illegal voter roll purging in 12 states due to clerical incompetence. The Obama campaign has announced the formation of a nationwide network of lawyers whose aim will be to challenge such voting irregularities. *:"This isn't some socialist monkey house where every Tom, Dick, and poor-Mexican-Arab-black person can vote," said a spokesperson for the Republican National Committee. "This is America, for Strom's sake!"
HOMONUPTIALS
The Supreme Court of Connecticut recently ruled that gay couples have the right to marry, making the state the third behind Massachusetts and California to legalize such unions. *:The ruling will also allow Connecticut Senator Joe Lieberman to self-marry so he can finally go f*ck himself.
FOR RITCHIE OR POORER
Madonna and husband Guy Ritchie confirmed rumors last week they are indeed divorcing. The announcement comes after months of speculation the Material Girl was having an affair with baseball star Alex Rodriguez. Friends of Madonna claim Ritchie was emotionally abusive, calling the 50 year old pop icon a "granny" and telling his friends that making love to her was like "hugging a piece of gristle." *:A judge has ruled that custody of Madonna's Botox and idiotic spiritual beliefs will be divided between John Travolta and Tom Cruise, that Ritchie's stalled and monotonous film career will be awarded to Quentin Tarantino, and that their children shall henceforth be fed at one of Angelina Jolie's eight teats.