Name: Emily Wilcox
Age: 18
Sign: Sagittarius
Hometown: Manhattan, KS
Time in Lawrence: 2 months
Occupation: Student @ KU
What were you doing when scouted? Drawing and writing in my journal.
Favorite places? I'm usually too broke to go shopping. I like coffee shops a lot, and most of the thrift stores downtown. Aladdin's Cafe is good.
How would you describe your style? I noticed while I was moving here that I have a lot of clothes, and I enjoy putting outfits together that don't make much sense. I like mixing pieces up, like dressing up t-shirts or dressing down something that usually looks fancy.
Photo Gallery
Style Scout: Emily Wilcox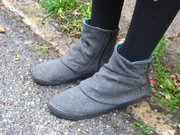 Where do you get your hair cut? I cut it myself.
Favorite trends? I like when people put things together and make it their own. Right now I really like high-waisted pants, and I like hats. Lately I haven't been into accessories, mainly keeping things minimal.
Least favorite trends? There's a lot of the 'leggings as pants with too-short t-shirts' on campus. I really am not a fan of everyone dressing the same.
Tattoos/piercings? I have three ear piercings, and a tattoo of the world under my collarbone.
Favorite coffee shop? I like Henry's, because it was the first place where I ever had a Dirty Chai, and they have loyal customers, which is always a good sign for a coffee shop.
Favorite hangouts? You can usually find me at the Sunflower House or at coffee shops, and I like to go to house parties.
What would you like to see more of in Lawrence? I'd like to see some cheaper thrift stores, and maybe a zoo or a planetarium....definitely more wildlife.
What would you like to see less of? 21 and over events and shows.
Who are your fashion influences? My friends and I trade clothes, so they're a big influence. I can't say that I usually see something on a celebrity or in a magazine and consciously am influenced by it.
What's in your purse? Random lighters, pens, comics from the newspaper, 2 parking tickets, someone's I.D from Wichita State that I found and I'm keeping.
What are you currently reading? A collection of stories by Kafka.
Tell us a secret: My wish is to be a jungle animal. If I could, I would totally live in the jungle.
More like this story on Lawrence.com