Name: Jacob Mirocke
Age: 19
Sign: Capricorn
Hometown: Shawnee, KS
Time in Lawrence: a few months
Occupation: Archivist at the Dole Institute, student at KU
What were you doing when scouted? My friend and I were trying to find a duck pond, so we could feed some ducks.
Favorite places: The Antique Mall, Wild Man Vintage, Antique Bazaar II, Ingredient, and Vermont St. Barbeque.
How would you describe your style: A mix of a 90 year old man and the movie 'Pleasantville'.
Where do you get your hair cut? I get my hair cut at a place called Shay-Belle's in Shawnee.
Photo Gallery
Style Scout: Jacob Mirocke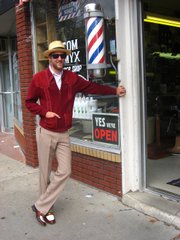 Favorite trends? I like sock guarders, definitely. I'm big on sweater vests and bow-ties, cardigans, and dress shoes.
Least favorite trends? My least favorite trends are ill-fitting pants...baggy, wild pants, and the stereotypical vintage look.
Tattoos/piercings? Not that I know of.
Favorite coffee shop? I do like Henry's and La Prima Tazza. The atmosphere at Henry's is good, and the chai tea at Tazza is my favorite in town.
Favorite hangouts? I like to listen to jazz records at my house, which is what I did last night. I also run a lot. I don't really go out much.
What would you like to see more of in Lawrence? I'd like to see more bike lanes, more men in suits and fedoras, and more long winter coats.
What would you like to see less of? Discourteous drivers, although I'm really content with Lawrence as a whole.
Who are your fashion influences? My great-grandfather, when he was alive, was a big influence. I was also influenced by the people that lived at the retirement home that I used to work at, vintage Sears catalog models, and anyone that was in LOOK magazine.
People say I look like: Before I was in beard form, people said I looked a lot like Edward Norton.
Tell us a secret: I am a Civil War Re-Enacter, in the 3rd Missouri Light Artillery.
More like this story on Lawrence.com