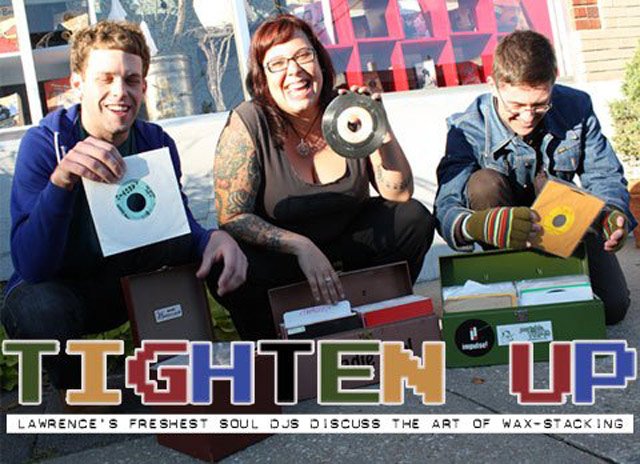 Brian Sears would gladly sell his soul for a stock copy of a rare and beautiful 45rpm record, but that doesn't disqualify him from spinning choice soul sides. The host of The Breakdown a monthly dance party at the Eighth Street Taproom is in good company in Lawrence, where vintage soul records are regularly dusted off and blasted on loudspeakers by co-conspirators like Sarah Brokenleg (a.k.a. Sadie Soul) and Josh Powers (a.k.a. SceneboosterSoundsystem). If you can't cut a rug when those three DJs take the stage, it's probably time to buy an oxygen tank. The vinyl orgies would get a stamp of approval from John Cusack's character on "High Fidelity," but its populist purveyors aren't cliquish with regard to their loose-limbed disciples. Young and old; funky and frumpy; red state and blue state-it's all soul deep.
No-fi highlights from the podcast
lawrence.com: Now that we have all three of you in the same room, is this podcast going to resemble a gang fight from the 1979 cult classic "The Warriors"?
Brokenleg: Only if I get to dress like one of the baseball guys.
Is there in any sense a competitive nature to this business in Lawrence?
Brokenleg: I think Lawrence is too small of a town to get really competitive about something like this. We have a good community and the whole point of the Lawrence Soul Club starting three years ago was just to get a group of people that love that music together and support each other.
In these tough economic times, can crate-diggers like yourselves still afford to drop $50 on rare 45s or do you have to economize and buy "Best of Motown" box sets from the Home Shopping Network?
Brokenleg: I would never do that (laughing)!
Powers: Just like any addict, we find a way.
Sears: Man, I wish I could find records that are $50. That's a bargain.
Brokenleg: I'm a broke-ass grad student, so if it's (worth) more than $20 it's probably going to be a lucky find for a dollar in a bin somewhere in Kansas City ... Or Baldwin I found a $300 record in Baldwin.
Care to share any secrets?
Brokenleg: No (laughing)!
Powers: That's rule No. 1.
I know you have a pipeline to a guy named Superwolf in KC who helps you out a little bit.
Sears: Yeah, I was given a mix a few years ago and this song blew my mind and I had to have it ... I called up Superwolf Jimmy Trotter and he was like, "Yeah, I totally have it." So I went to his house, and in order to gain entry me and my boy Cyrus D went to Price Chopper and bought some cat litter ... That pretty much was the start of my record obsession.
What specifically moves you about these records?
Sears: You either feel it or you don't, and I feel it. It touches me-not to be perverse or anything like that.
Brokenleg (giggling): Brian likes to spend a lot of time with his records. I'm all about lyrics. Some of the best love songs and the best heartbreak songs you've heard in your life.
Powers: I'm more about the instrumental funk joints.
Who do you think was listening to these records when they first came out?
Powers: The people you wanted to be hanging out with, that's for sure.
Brokenleg: When I think about the Four Tops/Temptations concert the other night-well, the Temptation concert, and I think there's two original Four Tops-we were definitely the youngest people there. Soul music really hits a lot of different ages. You can get a little kid to get down to soul music and then you've got a lot of people that grew up on it and have a lot of memories attached to it.
Powers: I love it when the old folks come out.
Brokenleg: They're so excited that you're playing something they grew up on. It spreads the love.
Do you ever get so sick of spinning soul music that you wanna claw your eyes out with plastic forks and instead spin nothing but Dan Fogelberg and Latoya Jackson?
Powers: I'm going to go ahead and answer for everybody-no.
If Sarah Palin were to walk into one of your nights, what song would you play?
Powers: I think I would play some Dead Kennedys-"Nazi Punks." Or maybe some Slayer.
What about George W. Bush?
Powers: The Honeydrippers' "Impeach the President." You hear it in Toyota commercials-it's got a classic break at the front.
Which current presidential candidate has more soul?
Powers: Now that's not even a fair question...
How much would I have to pay you to play a Primus song in one of your sets?
Powers: I like Primus a lot, but they have no relationship to funk.
Any closing thoughts on soul music or anything else?
Powers: I would like to say-as the old man of the group-both Brian and Sarah's nights are insanely good. If you're interested in soul music, come out and you will have a good time.
More like this story on Lawrence.com