ELECTIONEERING BOOGALOO: ONGOING COVERAGE
Going into the final week of the presidential campaign, Barack Obama continued to extend his lead in the polls over his Republican rival John McCain. McCain's running mate Sarah Palin provided another distraction with the revelation that the Republican National Committee spent $150,000 on her wardrobe and the highest paid staffer in the McCain campaign is Palin's makeup artist. Meanwhile, Barack Obama stopped campaigning over the weekend to visit his gravely ill grandmother in Hawaii.*:The McCain campaign immediately launched a robo-call asking voters in swing states, "How would you feel if you knew Barack Obama was sneaking around with a defenseless white woman in his tropical jungle lair?"
MOTEL HATE
The construction site of the new Oread Inn near the KU campus was vandalized last week when someone opened a fire hydrant that flooded the development, the third time such flooding has occurred.*:A spokesperson for the Oread Inn said police are focusing their investigation on a mysterious suspect known only as I.P. Freely. The press conference had to be cut short when a flaming paper bag containing an unknown substance was discovered near the site and needed to be stomped out.
BETTER DEAD THAN TED
Senator Ted Stevens of Alaska was convicted on Monday of lying about home renovations and other gifts he received from a wealthy oil contractor. The Senate's longest-serving Republican, Stevens was found guilty on all seven counts of making false statements on Senate financial documents. The 85-year-old senator is currently running for reelection, but faces up to 5 years in prison on each count.*...According to Alaska law, Stevens has the option of appealing his verdict or fleeing into the wilderness with a 15-minute head start as a pack of Palin's on idling snowmobiles armed with semi-automatic weapons wait to hunt him down.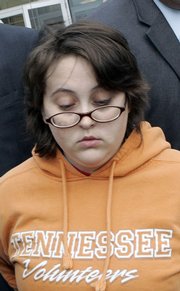 PSYCHO B
The College Republican who claimed she was attacked by a large black man who cut a "B" into her cheek with a knife-"B" supposedly standing for "Barack"-admitted last week her story was a hoax. Ashley Todd's tale was immediately suspect when photos of her "injuries" showed the "B" on her cheek was backwards, implying she had done it to herself in a mirror.*:Todd resurfaced this week claiming that a Mandingo ate her baby.
FED QUEEF
Former Fed Chief Allan Greenspan testified before Congress last week about his role in promoting the deregulation of the financial markets which helped trigger the current economic crisis. Greenspan, known as "The Oracle" during his tenure at the Federal Reserve, was forced to admit he was in a "state of shocked disbelief" that allowing the housing bubble to develop unchecked by keeping interest rates too low and providing no oversight in the shadowy credit market had led to this economic meltdown.*:Greenspan, an associate of Ayn Rand and student of her hyper-individualist philosophy, also admitted that constructing an underwater city and filling it with gene-spliced mutants-hoping to create a truly laissez faire society of super-powered Alpha personalities that couldn't possibly lead to depravity and murder-might have been "irrationally exuberant."
NURTURING YOUR DINNER CHILD
Six members of a family in the Czech Republic were convicted of torturing their children last week, one of whom they had partially skinned and forced to eat his own flesh. The family belonged to a religious cult known as the Grail Movement and had kept their two young boys chained in a closet as they repeatedly abused and ate them. Both of the children are alive and recovering.*:When reached for a comment on how such cruelty and inhumanity could exist in his world, and shown photos of the cannibalized children, God threw up in his mouth.
ANIMAL ABUSEY
In an interview last week with "Access Hollywood," actor Gary Busey confessed to having snorted cocaine off of his dog. The now sober star of "Lethal Weapon" and "Point Break" pointed to the incident as the lowest point of his drug addiction, saying that he had dropped a bag of coke on his dog and "went in like a crop duster with my nose flying first and snorted the cocaine off the dog."*:The incident ranks as the third weirdest thing Gary Busey has ever done with a dog.
TEXAS MESSED WITH
The KU football team was drubbed last week by Texas Tech, losing 63-21 in what coach Mark Mangino called a "good old-fashioned butt-whoopin." Despite the loss, the Jayhawks are still tied for first in the Big 12 North.*:The loss was so devastating that sports statisticians placed it in the dreaded category referred to as "Chiefs-ian."