Monday, September 1, 2008
A MANGINO FOR ALL SEASONS
The Orange Bowl-winning KU football team kicked off their new season on Saturday with a 40-10 victory over Florida International University. *...According to the Florida International University website, the "International" refers to their football program's "propensity to receiving world class beatings and having its ass kicked all up and down the face of God's creation."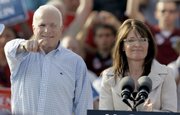 VEEP OF FAITH
John McCain, on his 72nd birthday last week, named first term Alaska governor Sarah Palin as his running mate. Palin's only previous experience in elected office was as mayor of an Alaskan town of 8,000 people. She is a staunch social conservative who opposes abortion, even in the case of rape and incest, and believes creationism should be taught in schools. *...Ever the maverick, McCain had initially asked zany sketch comedy writer Liz Lemon to be his vice presidential nominee. When advisers were forced to inform the confused 72-year-old that Lemon is a fictional character played by Tina Fey and that he was talking to his television, they felt bad and found someone who kind of looked like her and was equally as qualified to be Vice President of the United States.
ELECTIONEERING BOOGALOO: ONGOING COVERAGE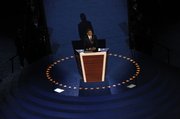 Barack Obama officially accepted the Democratic nomination for president last week, becoming the first African American to lead a major political party in United States history. His acceptance speech on the last night of the Democratic National Convention drew more than 80,000 people to Denver's Invesco Field and was watched by 40 million more on television. *...The acceptance speech being delivered in a football stadium seemed to energize the Democratic party, as Nancy Pelosi, Bill and Hillary Clinton, Al Gore, and Joe Biden appeared screaming and shirtless on the 50 yard line with "OBAMA" spelled out on their respective torsos. Virginia Governor Tim Kaine was also spotted in a rainbow clown wig and holding a "John 3:16" sign.
ENVY WITH GREEN
The National Geographic Green Guide ranked Kansas City 25th out of all 251 metropolitan areas with populations of at least 100,000 on its list of the greenest cities in the United State. Lawrence city leaders are said to be closely studying sustainability efforts in Kansas City. *...The Lawrence City Commission, not to be outdone in their stewardship of the environment, pointed to their aggressive efforts in reducing carbon emissions by eliminating buses.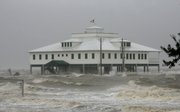 KATRINA II: BLOW HARDER
Hurricane Gustav struck the Gulf Coast on Tuesday, almost three years to the day of hurricane Katrina's devastating land fall. Millions evacuated the region in advance of the storm and the Republican National Convention was greatly scaled back in the face of the potential disaster. *...To mark the third anniversary of Katrina, President Bush-as he did when it nearly destroyed New Orleans-did nothing.
THE JACKSON 5-0
Music legend Michael Jackson turned 50 last week. *...Jackson celebrated his birthday at a Los Angeles area Chuck E. Cheese, where the manager repeatedly asked the King of Pop that if he insisted on playing in the ball pit with the other children, would he at least wear some clothes.»