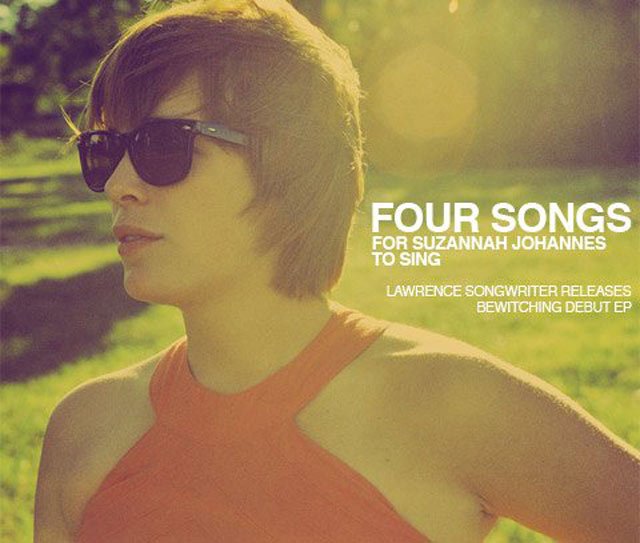 Tuesday, September 9, 2008
It was only a couple years ago that Suzannah Johannes started writing songs and performing; first as a solo artist, and then with backing from Ghosty's David Wetzel and Josh Adams. Eventually she suckered the whole Ghosty camp into joining her, and her debut four-song EP thusly became a full-bodied affair that plays to each member's laid-back skill set. Johannes also enlisted the lyrical talents of Lawrence songwriter Hanz Bronze on the four-song collection, using his poems as the foundations for her misty-eyed verses.
This week, Range Life Records will release "Suzannah Johannes" as a 7-inch "record" and a digital download on iTunes. Peep our 20-minute podcast with Johannes for a preview of the EP and some stories about the songs therein.
No-fi highlighst from the podcast
How did the EP come together?
The original tracks were done at the end of last year. We recorded 10 tracks in two days at Black Lodge with the time that we had won from KJHK's Farmer's Ball. That was Josh Adams and David Wetzel and I doing it as a three-piece with Steve Squire sound engineering. We used all the drums from that. We had been performing as a three-piece for awhile, but then we realized we should add bass.
Then in about February or March, Range Life Records chose these four songs to put out as the first EP. They all kind of go together in that they're all collaborations with Hanz Bronze. So in March we finished up the work. We had Mike Nolte do the recording at his apartment and he played bass and we had Steve Swyers from Fourth of July do lead guitar and Andrew Connor sang some harmonies and we did a lot of auxiliary percussion with Josh.
Can you give us some background on the song "Horserider's Smile"?
That was the second song that I worked on with Hanz. The first song on the EP is called "Hanging On" and that song is a direct cover from him. He taught me how to play guitar and taught me some of my first songs. He moved to New York and he emailed me songs but they were in the form of poems. I was in a kind of dry spell as far as writing, so those songs came about because I broke apart the poems and put the melodies to them.
What about the song "Kelly Ann"?
Hanz had posted a poem on our friend's website with the title "A Song for Suzannah Johannes to Sing Sometime" : The song is about a girl who didn't show up to a party; he was hoping to see her there in New York. But if you listen to the song it's a lot more majestic than just a girl not showing up to a party.
Was it more comfortable to ease into songwriting with help from Hanz or was that something that happened on the side as you were developing your own songwriting voice?
It just happened on the side, but maybe it did feel a bit more comfortable as a first release in retrospect. I'm still singing some of the first songs I've ever written, and I feel like it's kind of like when you draw something on a piece of paper when you're younger and you feel like it's the most perfect alligator in the world. Then you look at it five years later and you're like, "That totally doesn't look right." So it's a little more comfortable in the fact that Hanz is a brilliant lyricist and a brilliant songwriter. It was like dessert.
You're opening for Michelle Branch in about a month. I think you were saying your parents are pretty excited about that:
Yeah, they are. They think it's a solid sign of success. I hear on the phone about it all the time. They live on a farm out in the country and when little things happen I tell them about it but they don't quite think it's as big of a deal as I do. But they're really happy and supportive and they're going to come to the show. It'll be interesting to hear how we sound at the Lied Center.
You also get to submit a technical rider. Unfortunately you don't get a real rider, so you don't get to put all your crazy requests on there.
Yeah, like all-organic chocolates.
What else would you put on your rider if you had unlimited access to anything you wanted?
I feel like the first riders would just be a bunch of alcohol and I'd try to have a really fun party for all my friends. But I'm sure that would get old after like the third show.
Maybe you could wish for more riders.
Totally (laughing).
So what else are you going to do this fall? I know you've been spending some time back at your parent's farm was that productive at all?
It was kind of productive. They expect me to work when I'm there, so not as productive as I'd like. But I've also been living in Lawrence and I have a little home studio, so I've been writing some new songs. I'm hoping to follow this up with a full-length album in less time than it took to make this one. There's some stuff coming out on Daytrotter.com as well. »