Tuesday, September 9, 2008
Caitlin Briman, "barista extrodinaire," photographer, all around cultured type
How do you save money?
"Thrift stores. And, I hate to admit, sometimes when I see something on the side of the street I will pick it up. I got this chair the other day off of the curb, and it was perfect--I don't know why anyone would throw it away. Another thing I do to kind of save money is sell clothes. I'll go to a thrift store that's cheap and then resell them at another store. I also go to garage sales. I found this wooden, carved, antique coat rack for $5 at a garage sale. It's probably worth about $150. I frame my photography myself, so that saves me some money."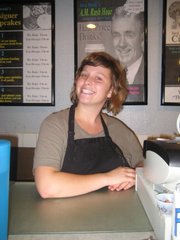 What do you splurge on?
"If I go out of town, I will spend a lot of money on clothes. $70 dresses, $100 shoes-if it's really cute, I'll spend the money. Don't get me started. I think everything is perfect when I first see it, but when I get it back home I'll sometimes suffer from buyer's remorse. If that's the case, I'll wear it for a day take it back. If a waiter even tries to get near me with wine, I'll tell him to back off. 'Whoa! I have to return this tomorrow and I don't want to get anything on it.'"