Tuesday, September 9, 2008
Age: 19
Sign: Gemini
Hometown: Lawrence
Occupation: Professional partier
What were you doing when scouted? Currently zombied from the Ratatat show last night.
Favorite stores? Urban Outfitters' sale rack is where I get a lot of my clothes. I also go to Rudy's a lot. I just live the typical Lawrence life.
How would you describe your style? Hippy chic circa 1965.
Where do you get your hair cut? My friend Steven Thompson cuts it. He just graduated from Z's Cosmetology.
Photo Gallery
Style Scout: Dan Bear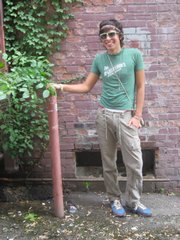 Favorite trends? I love headbands and male jewelry. I'm really big on underwear for men, and man bags.
Least favorite trends? Flannel shirts and plaid shorts. The neon stuff is also getting on my nerves, especially in Lawrence. I'm sick of flamboyantly 80s clothes.
Favorite coffee shop? It used to be La Prima Tazza, when Alex worked there, because I would go there just to see him. Now i've switched to Henry's.
Favorite hang-outs? There would be no NEON without me, I'm there every week. I also go to a lot of concerts, and hang out with friends' houses. I'm all over Lawrence.
What would you like to see more of in Lawrence? There are no gay bars, so definitely that. I do wish there was an H&M; and more fashionable shops in general here. I want to see more places that carry mens underwear because I usually have to drive to Kansas City for a good pair of underwear.
What would you like to see less of? Cops and asshole frat boys.
Who are your fashion influences? Bob Dylan. I love me a cowboy shirt with pearl buttons and tight jeans. My wardrobe also has a lot of Native American influences.
People say I look like: Joseph Gordon-Levitt, from 3rd Rock from the Sun and 10 Things I Hate About You. He's also my favorite actor, which might make me a bit of a narcisisst.
Tell us a secret: Guys that are good at debating politics turn me on.