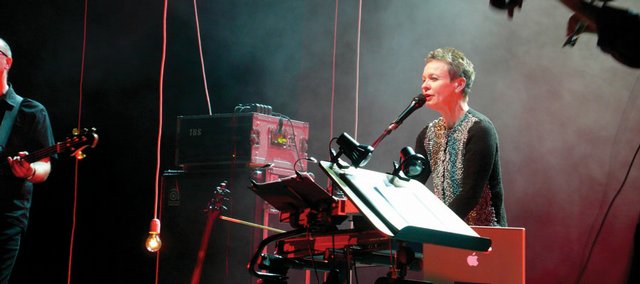 Friday, September 12, 2008
Past Event
Friday, September 12, 2008, 7:30 p.m.
Lied Center, 1600 Stewart Drive, KU campus, Lawrence
All ages / $13 - $35
Laurie Anderson is a threat to national security.
At least that's how the FBI viewed Anderson after encountering one of her inventions.
Several years ago, the renowned experimental musician/artist created a device called a "talking stick" for an opera she was performing about "Moby Dick."
"There were a lot of guys in the show and I wanted them to have an instrument you could throw your body into - I just can't stand seeing people do laptop stuff. Watching people play keyboards is like watching people iron. So I made this instrument called a talking stick, which is a long stick with a bunch of buttons and stuff. It's like a saxophone, and you have to lean into it to really play it," Anderson says.
The item was such a hit that the Museum of Science and Industry requested one of the circuitry-filled, batonlike devices.
"I sent it out to the museum in Chicago, and it was on the day that Bush was arriving there to dedicate something to someone. So the FBI was opening every FedEx package. Mine was opened at the museum and confiscated by the FBI.
"I keep expecting Bush to whip out a talking stick in one of his speeches. Maybe he'll do a little number on it during his goodbye speech."
That Patriot Act-fueled paranoia fits perfectly in with Anderson's acclaimed new show "Homeland."
Anderson describes the project as a musical response to post-Sept. 11 New York City, where she has resided for decades. She admits the title "Homeland" is rife with implication.
"Well, it's got a silent second word," she explains.
"For American ears it's a fake word - well, not fake - but nobody talks about 'my homeland.' It sounds like it's translated from Russian. You wouldn't say 'your homeland,' you'd say 'my country.' But our story-savvy linguists in the government know exactly what they're doing. They're pairing this fuzzy sentimental word with a very cold bureaucratic thing and making it a new department."
Love and war
"(Anderson's) performances become her thoughts and ideas of a contemporary world," says Tim Van Leer, executive director of the Lied Center, where Anderson will perform tonight. "She has music, poetry, visual art, electronics and her words to help tell her stories."
Van Leer caught "Homeland" in July at the Lincoln Center Festival in New York. He was impressed most with the concepts she shared.
"In a pre-performance talk (she spoke of) losing things or the feeling of losing something and not remembering what you lost. We've all experienced that: My car keys, my glasses, did I lose something or not? She felt that she had lost her country."
For "Homeland," the artist employs a four-piece band and new technologies to meditate on the heightened state of fear, security, loneliness and loss of freedom in the wake of the 9/11 attacks.
"It's looking at contemporary culture through two ways: through love and through war," says Anderson, speaking from her studio in New York.
The 61-year-old artist arrived in Lawrence Thursday on the seventh anniversary of the attacks. (On that day in 2001, she was actually performing a show in her hometown of Chicago, and upon returning to New York was unable to get into her home because of the fallout.)
She says, "The anniversary always seems to be on the same type of beautiful September days like right now in New York. Pure blue sky and absolutely peaceful. And it's like the color is turned up a little too much on your TV set."
The art of performance
Anderson has been exploring her conceptual musical art since the late 1960s while an undergrad at Barnard College and graduate student at Columbia University.
She became something of a cult figure thanks to her piece "Duets on Ice," in which she played a violin fitted with a tape head and a bow strung with audiotape - all while wearing ice skates with blades encased in a block of ice. The piece ended when it melted.
She eventually moved into the world of recordings, leading to her minimalist 1981 single "O Superman," which hit No. 2 on the UK charts.
Not surprisingly, she's earned the reputation as a performance artist - a label she loathes.
"The term sounds stupid. It sounds like a bad translation," says Anderson, who in April married fellow iconic musician Lou Reed.
Anderson claims "performance artist" also evokes automatic presumptions.
"People assume you have to be really outrageous, like you're chaining yourself to a post for seven years. Like it has to do with endurance stuff," she says.
Has Anderson ever felt she went too far with an idea?
"Many times," she says. "And not far enough sometimes. Mostly I beat myself up for being too polite, for not being able to include the things that really bother me."