Monday, September 15, 2008
Justina Ross, nursing student, hostess who hangs
How do you save money?
"I don't go out to eat as often as I like. I stay home and eat most of the time. When I bring people to eat at work, they'll get a free meal. I take the bus as much as possible, which saves on gas. I do take advantage of coupons on pizza. I like the Canadian Bacon from Pizza Hut. So far as clothing, I'll go to consignment stores and outlets."
What do you splurge on?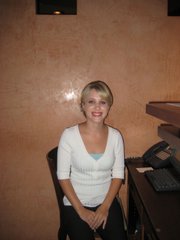 "I go out to movies with friends or splurge on a nice outfit. Maybe buy something to decorate my room. I like to go out and get Mexican food sometimes. What kind of booze do I like? I'm 18."
More like this story on Lawrence.com