Monday, September 15, 2008
Rose Naughtin
Age: 17
Sign: Cancer
Hometown: Lawrence
Occupation: Student at Free State High School
What were you doing when scouted? I was coming to La Prima Tazza to do some reading.
Favorite stores? Wild Man Vintage, ATC, Free State Brewery, La Prima Tazza, and Urban Outfitters.
How would you describe your style? Basics and bling.
Where do you get your hair cut? I go to Michelle at the Velvet Chair, but I cut my own bangs.
Favorite trends? I always wear skinny jeans, and I'm into scarves. I also likie dramatic eye makeup and long hair.
Photo Gallery
Style Scout: Rose Naughtin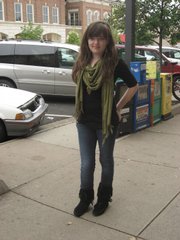 Least favorite trends? Pale lipstick, plaid shorts, and tight shirts.
Tattoos/piercings? I would like to get a rose tattoo at some point, and maybe get my eyebrow pierced.
Favorite coffee shop? I like La Prima Tazza because of the atmosphere, and I think they have the best coffee in town.
Favorite hang-outs? I go to a lot of concerts, and I like to go to South Park, and just hang out at my house.
What would you like to see more of in Lawrence? I can't really think of anything, I like Lawrence the way it is.
What would you like to see less of? I'd like to see less corporate chain stores and less expansion.
Who are your fashion influences? I'm a devout Project Runway follower, so I get a lot of fashion ideas from there. I also check out the New York Times style section and try to find cheap alternatives to what they show.
What's in your purse? My wallet, "Memoirs of a Geisha" book, a Liberty Hall movie guide, iPod G4, notebook, residue from some Green Tea mints that spilled everywhere, fake Rayban sunglasses, and a Barack Obama pin.
Tell us a secret: My guilty pleasure tv show is "The Secret Life of the American Teenager" on ABC Family.
More like this story on Lawrence.com