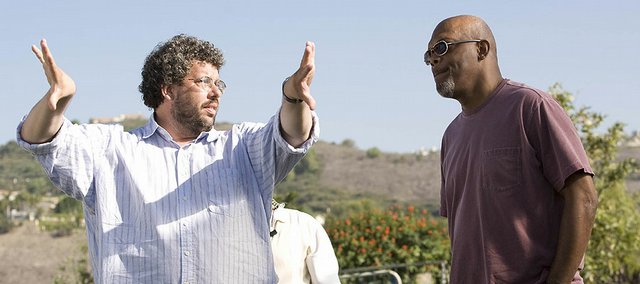 Thursday, September 18, 2008
Movie
Lakeview Terrace
***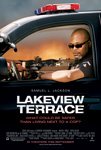 Slick, savvy, and well-executed, this is a typical studio release polished to a blinding sheen thanks to a superior cast and director Neil LaBute ("In the Company of Men"). Samuel L. Jackson plays a vindictive LAPD patrolman determined to make life hell for his new neighbors. Their crime? Their interracial marriage.
For the first time in the 11 years since he became an internationally renowned filmmaker, Neil LaBute is on the brink of an elusive, unlikely achievement.
The Kansas University graduate has already solidified his reputation as a master of crafting controversial tales involving revenge, betrayal and cruelty. But nothing has quite prepared him for the expectations of how his latest project, "Lakeview Terrace," will be received.
That's because LaBute is releasing a movie that could actually open No. 1 at the box office this weekend.
"I'm not even going to speculate," LaBute says.
"To do that you get into a race that I am uneasy being a part of. It's a long time that you work with a piece of material. You have to kind of love it, and it will always be a part of what you've done. To put everything on one weekend is too much. I just need to worry about overall making a good movie."
So far, the advance critical response has validated LaBute's agenda. In writing about "Lakeview Terrace," the Minneapolis Star Tribune calls LaBute "America's most dazzlingly gifted un-famous film director."
"I think there are many more who dazzle," responds LaBute, who earned a master's degree in theater and film history from KU in 1989. "I think of someone who has a love and adeptness with the camera and the technology of filmmaking more than I do. I'm much more comfortable with the other ingredients: the actors, the script. I use the camera to record those elements."
As for being "un-famous," LaBute quips, "I'm happy where I'm at. I'm famous enough, and absolutely able to walk down any street and be unrecognizable. That's a good place to be."
"Lakeview Terrace" tells the tale of an LAPD officer (Samuel L. Jackson) who becomes enraged at the interracial couple (Patrick Wilson and Kerry Washington) who move in to his suburban cul-de-sac. His increasing harassment leads to an escalation of tension between the neighbors that eventually turns deadly.
The film could be seen as a companion piece to LaBute's previous works. The writer-director (and frequent playwright) made his big-screen debut with 1997's "In the Company of Men," which won the Filmmakers Trophy at Sundance. His later efforts include "Your Friends & Neighbors," "Nurse Betty," "Possession," "The Shape of Things" and the 2006 remake of "The Wicker Man."
"When (the studio) thought about me for the film, it was not from the point of view of a thriller, but from where they thought the script might end up going: this examination of gender struggle and racial elements that were waiting to be beefed up. All those things spoke to them and spoke to me."
Jayhawk reunion
LaBute is not the only local connection to "Lakeview Terrace."
Current Lawrence resident and former Jayhawks football standout Keith Loneker enjoys a significant acting role in the picture. Loneker plays Clarence Darlington, a street-level drug dealer who provides info and services to Jackson's character.
"When you're on a movie set for a long time, like 'Leatherheads,' where I was there for four months, you get an idea for what the movie is going to be because you've seen everything that was shot," Loneker says. "But I wasn't on this one for that many days. It was a cool surprise to see it come together in the theater."
The 6-foot-4-inch, 300-pound actor got to do all his own stunts, which involved a fight scene and gunshot wounds.
"But my favorite scene to film was when I get to tear up (the couple's) house. I've always wanted to do that. I think anybody who's ever seen a movie where somebody gets to smash stuff and break things, that always looks like a lot of fun."
Loneker was suggested to LaBute by the filmmaker's casting director.
"The interesting thing about that character is he is someone who makes an impression," LaBute says. "Across from Sam Jackson, that's not the easiest thing. Your eye often strays to Sam. He needed to be someone who when we saw him again we immediately knew who he was. Keith has that presence. He's got that size and a great face; he's just an indelible character."
Both men didn't know each other when they attended KU. The pair recall getting along well on the set and occasionally chatting about Lawrence.
Loneker adds, "I gave him a little bit of junk because he went to BYU before he went to KU, and we beat them in the Aloha Bowl my senior year. He said something like, 'Well, I follow the film stuff more than I follow football.'"
Cultivating talent
LaBute has experienced amazing luck with developing young actors. Case in point: Aaron Eckhart.
Eckhart made his starring debut in LaBute's "In the Company of Men," and together they have collaborated on six films. Eckhart, of course, portrays Harvey Dent/Two Face in the blockbuster "The Dark Knight."
"I was happy that he had a substantial part and carried a lot of it. I know from talking to him that it was exciting to make," the 45-year-old filmmaker says. "I hope we get to do something together again soon."
On the other end of the spectrum, LaBute worked for the first time with Jackson, a veteran of over 100 movies.
"I think he's markedly different in ('Lakeview Terrace') and really interesting. But I felt the same about 'Black Snake Moan,'" LaBute admits. "When somebody is just always providing good material, you learn to expect that. It's no surprise. But try doing it once, and you'll realize it is a surprise."
LaBute says he and the screenwriters attempted to bring depth to Jackson's seething cop. They introduced numerous changes to the original script to depict him as a man who is often trying to do the right thing but ultimately goes about it in the wrong way.
"Because it is a genre piece, and you can easily let what is ostensibly 'the bad guy do bad things,' we worked hard to make him somebody you could hopefully understand," he says.
Following "The Wicker Man," which drew scorn from the public and reviewers, and even earned LaBute a Razzies nomination for worst screenplay, the director considers himself fairly bulletproof when it comes to criticism.
"It's part of putting your work out there for public consumption," LaBute says.
"For every 'I hate Samuel Jackson,' there will be an 'I love Samuel Jackson.' For every 'I don't like Patrick Wilson,' there will be one 'I like him.' There will be those who like the nature of the story and those who don't think it works. You get your report card published in the paper - it's a strange job in that sense."