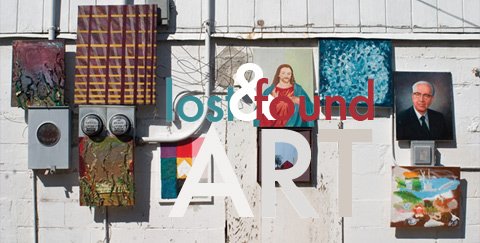 Tuesday, September 23, 2008
Yuri Zupancic was once walking the streets near his house when he found a strange picture. A photo taken from arthroscopic surgery. Strange images of medical instruments and body tissues.
Once he was out by an old farmhouse and he found a plank with peeling paint and circular marks that looked like they had been cut into it by a hole saw or aliens.
A normal schmuck might see these things and think, "Huh, that's interesting," and move on with the day. The curious-minded packrat might even take 'em to the garage for safekeeping.
But Zupancic is an artist. He takes the alleys instead of the streets in search of these found treasures. So when he saw the photo and the plank, he gave them titles and hung them in galleries. You never know what you'll find.
Past Event
Saturday, September 27, 2008, 10 a.m. to 1 p.m.
Lawrence Public Library, 707 Vermont St., Lawrence
All ages / Free
The Lawrence Public Library is holding a found object art contest on Saturday, Sept. 27, and the beauty of found object art is that anyone can do it. It's not the type of art that takes a technical skill.
French artist Marcel Duchamp started the found art movement when he put a bicycle wheel on top of a stool in 1913. Two years later he hung a snow shovel from the ceiling and called it "In advance of the broken arm," and he started calling the utilitarian objects he chose "readymades."
The best found object art, says David Cateforis, associate professor of art history at KU, provokes people to think about an ordinary object in a fresh way. In 1999, British artist Tracey Emin put her disheveled bed on display and called it "My Bed." It suggested sex, and prodded people to think about whether they would want something as private as their own bed on display.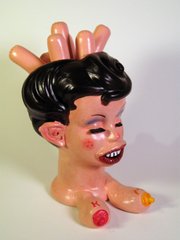 "The trouble is, a lot of found object art simply doesn't have that kind of power, that kind of ambition, and it can be disappointing," Cateforis says.
More common than putting a raw object in an art gallery is to incorporate it into a separate piece of art. Especially if it's a piece the artist wants to sell. Nobody's gonna buy a snow shovel as art, unless you're a famous guy like Duchamp.
"People are not terribly impressed you found a piece of junk and are now offering it for sale," Lawrence artist Dave Van Hee says.
For 36 years, Van Hee has been making weird conglomerations of found objects. He'll find a ballerina, a shark, a Blessed Virgin and a rock, and marry them for eternity in a dish with acrylic plastic.
It's pretty awesome and pretty fun, but when he wants to make a piece the average schmoe will actually want to buy, he'll do something like take a hubcap or a license plate and give it a new use, like telling time. Taking an object that once had one purpose and giving it another.
Local artist Andrew Hadle, who's teaching a class on found object art at the Lawrence Arts Center, likes the idea that by turning a piece of junk into a work of art, he's giving it a second life.
"Every event, every holiday, requires that you buy a bunch of stuff. Nobody keeps that stuff forever," he says. "There's just too much junk."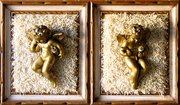 To save the world from this junk, he turns discardments into something like a remote-control junk mobile. That was for the Dime Bag Show in July at the Percolator, for which each artist was asked to fill a grocery bag with stuff from the Social Service League and turn their new treasures into art. Hadle found a remote-control car and put little stuffed animals and things on top of it, rigging it up so the wheels animated the objects as the car tooled around the art gallery.
Found object art can be liberating, Hadle says. After studying sculpture at KU, where he focused on building things to last and starting a body of work and all that boring stuff, he's lately been focusing on building things not meant to last, using more crafty, less durable materials like papier-mâche, and little plastic toys. (Which kind of undermines the idea of saving junk from the trash can, but at least the stuff stays in circulation a little longer.)
"These are more like exercises," he says. "How many different processes and things can I use in one sculpture?"
For many, like local artist Jeremy Rockwell, the fascination with found object starts out with a simple quest for cheap supplies. Found art eventually became an integral part of the process for Rockwell and his friend Zupancic.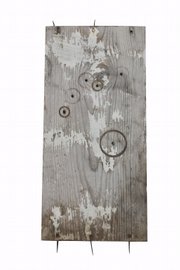 Rockwell almost always finds his canvas lying around somewhere. A door from an old kitchen cabinet, or a wooden plank from a barn. He and Zupancic often paint on microchips or other discarded electronics.
"I think it's ultimately showing process," Rockwell says. ":Showing process and showing it as a language, really. It's trying to show the rawness that we're trying to convey in our work, in a tangible manner."
For the past year or so Rockwell has been popping the keys off of every discarded computer keyboard he can find. Using the various colors of the keyboard spectrum-white, light gray, dark gray, black-he uses the keys as pixels to form a larger shape that can only be made out from a distance. One piece is a giant skull constructed of computer keys glued onto a panel.
"You get up close," Zupancic says, "and you realize, 'Oh, that's not an eyeball. That's F7.'" »
More like this story on Lawrence.com