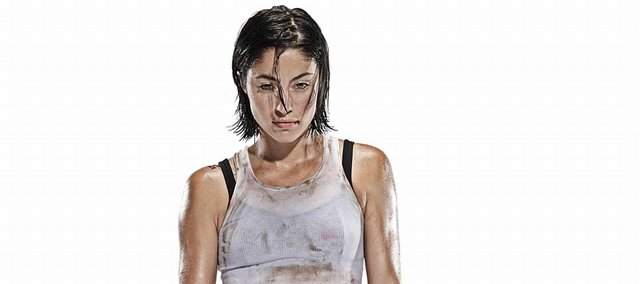 Tuesday, September 23, 2008
There's a maxim in Hollywood that states boxing is the sport that makes the easiest transition to the big screen.
The Oscars have showered boxing films with honors over the years, with standouts such as "Rocky," "Raging Bull" and "Million Dollar Baby" finding equal success at the box office.
But one rarely comes across a boxing picture made by locals in Kansas.
"It's not an artsy film. This is a popcorn movie, an action-adventure movie. But I love the characters and the script," says Jonathan Dillon, director of "Rigged."
The gritty, fight-themed feature will make its area debut Thursday as the closing film at the Kansas International Film Festival in Overland Park. About a third of "Rigged" was shot in Lawrence.
"I feel people have really responded to it well. One thing I wasn't expecting was how well females have responded to it, even though it's violent, has raunchy comedy and is a buddy pic. But more times than not, females at festivals have said it was their favorite film," Dillon says.
Part of the appeal is the fact the character doing all the fighting is a woman: Kansas City actress Rebecca Neuenswander.
Dillon recalls auditioning a number of actresses during the casting process three years ago for "Rigged." The most difficult aspect was trying to find a young woman who could believably go toe-to-toe in the ring with a 300-pound man ... and win.
"At the time she was very green," Dillon recalls of Neuenswander, who was originally known more for her modeling portfolio.
"When we auditioned her I thought she had a fantastic look, and I loved her personality. But then I was like, 'Let's see some punches.' When she shadowboxed for 60 seconds, I knew we had our (lead). None of them could throw a punch like Rebecca."
Turns out Neuenswander was the 2000 world champion in tae kwon do.
"Acting and boxing are equally challenging," says the 29-year-old Neuenswander. "But the most challenging part about boxing is you can't actually make contact. Having to learn how to pull punches was the hardest thing."
Tough breaks
"Rigged" follows Katherine "Kat" Parker (Neuenswander) as she is recruited by a shady, fast-talking manager, Dublin (Chad Ortis), who has spent years learning the ropes in the illegal boxing world. When Dublin realizes he has a legitimate winner in Kat, they figure to get rich by taking on and whipping up all the male contenders within this seedy underground circuit of basement bars and abandoned warehouses. But Dublin's dubious past is never too far behind.
"I thought the character had a lot of depth to her. I had a bit of a rebellious stage in high school which I could relate to with her," Neuenswander says.
The "Rigged" actress has studied martial arts for 12 years, mainly the Korean style of tae kwon do. ("I've done some mixed martial arts as well, but I don't do cage fighting or anything like that," she says.)
She began modeling at age 15. Between the ring and the catwalk she was used to enduring a certain amount of physical discomfort. It came in handy during the winter shooting schedule (November-December of 2005) of "Rigged."
"To be outside at 2 a.m. and somebody's spraying you down with water to make it look like you're sweating, that was difficult," she recalls.
Things got even more difficult when the actress suffered an injury during the shoot.
"I was fighting with a guy and I threw my weight off the wrong foot. He barely grazed my nose, and as I did that I snapped my neck back," she says.
The damage to her neck resulted in a six-month break for the production.
"I gained 20 pounds for the role, and I felt like I was in the best shape ever. Once I injured my neck, it was hard to keep that weight on. Then coming back I wasn't exactly confident that my neck wasn't going to break off," she says, laughing.
'Fight Night'
Dillon admits he has never boxed, but he grew up watching plenty of films on the subject.
"'Rocky' has always been a huge favorite of mine - and it's not the boxing itself. Like all sports movies, it's more about the characters than the sport," he says.
He was well into pre-production on "Rigged" when the Clint Eastwood-helmed "Million Dollar Baby" scored the 2004 Academy Award for best picture and also earned an acting Oscar for Hilary Swank as a female boxer.
He says, "I think that's been an advantage for 'Rigged.' It's how we present the film as well. We go to people and say it's 'Million Dollar Baby' meets 'Fight Club.' Immediately people are like, 'Oh, I'm interested.'"
Dillon was born in Overland Park and graduated from Shawnee Mission South High School in 2001. He attended Johnson County Community College (while there he started a film festival) before transferring to the University of Southern California.
He came across the "Rigged" script at college, courtesy of fellow screenwriting student Ian Shorr. The film was shot in HD for several hundred thousand dollars, with many of the cast and crew working for free or deferred pay.
"When I started doing 'Rigged' I was 23 years old and just had two semesters of film school. If I knew going into 'Rigged' how much time and effort and money it was going to cost me, I probably would have never been able to do it. But being that naive and having a no-holds-barred attitude was what enabled me to make the film," he says.
So far, the picture has played at festivals in Los Angeles and Toronto, with upcoming dates scheduled in Melbourne, Australia, and Hamburg, Germany.
Although Dillon is still looking for a domestic distributor, he has sold the film in a dozen international territories. Overseas it goes by the name "Fight Night" because "Rigged" is too difficult a word to translate.
Future roles
Dillon currently lives in L.A., where he is working on directing and producing a TV pilot while paying the bills by doing production coordinating on commercials.
Meanwhile, Neuenswander continues to live in Kansas City, where she is the founder and executive director of the HALO Foundation. The organization (Helping Art Liberate Orphans) works with orphanages in Central America, Asia and Africa. The children in these homes submit artwork that is auctioned off in the U.S., and the proceeds are returned to the artists.
Neuenswander admits she loved her experience on "Rigged."
"Every day you're on the set feels like the biggest day of your life," she says.
She is actively pursuing a career in acting but says future roles will have to be weighed against her other responsibilities.
"HALO is a big part of my life. For me to leave it for a couple months would take something great," she says. "I'm not going to go to L.A. and eating peanut butter and jelly sandwiches."