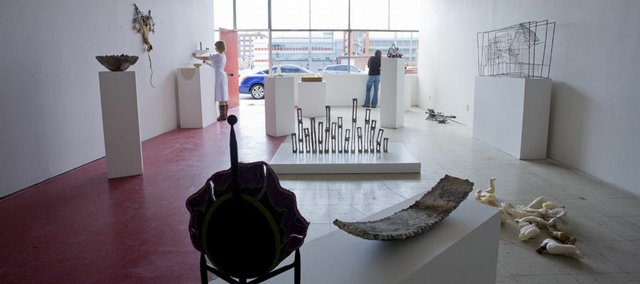 Sunday, September 28, 2008
Thousands of potential art patrons began flooding into the Crossroads District of Kansas City, Mo. And sculptor Matthew Weaver was primed for his debut at the area's First Fridays event.
The Kansas University graduate student from St. George, Utah, had created a geometric piece consisting of wood, glass and wire. When the doors opened for the first time at the new Red Door Art Gallery in September, he recognized his work would likely enjoy its biggest audience yet.
"Unfortunately, people kept tripping on my piece," Weaver says.
"There's some wire that came out, and sometimes as they passed by it snagged on their feet."
Tripping over art is kind of the point at the Crossroads District.
Every first Friday of the month, this recently refurbished vicinity turns into the hip place to be. Galleries stay open late, and restaurants and other niche businesses follow suit because of the consistent, lucrative turnout from the crowds.
Now KU has secured a piece of the action.
At the beginning of September, KU's School of Fine Arts opened the Red Door Art Gallery, which is the first exhibition space dedicated to showcasing work created by its students and faculty. The gallery is located on the corner of Walnut and 17th streets.
"To have people come in off the street who didn't know about the gallery, it's just exciting to have them see your work and comment about it," Weaver says. "It's fun being on the sidelines and hearing what they say. Also, it's good to show your stuff outside of the city you live in."
That was part of the impetus for launching the gallery, which serves as both a way to display art and study the commerce side of the art world.
"This is a wonderful opportunity for students," says John Hachmeister, an associate professor of art who helped spearhead the project for KU.
"They learn how to deal with a show: how to handle publicity, write artist statements. These things are covered in some ways in classwork, but when you're actually doing it more than in an abstract fashion, it has much more impact for the students."
Sharp 'Tools'
The current exhibition installed at Red Door is called "Tools of the Trade." The juried work is hosted by The Ministry of Sculpture, a student-run club at KU that features graduate and undergraduate students.
Beginning Friday, an exhibition titled "Olio" goes up. This will showcase the work of 27 graduate students in the fine art and design departments. They represent a variety of disciplines, including painting, printmaking, video, sculpture, ceramics, drawing, textiles, jewelry and metalsmithing.
Hachmeister says he recalls showing his own work in the Crossroads District when only two galleries operated in the area.
"It was kind of a sketchy place after dark," he admits. "But it's now turned into such an interesting street scene."
After serving on the board of the Arts Incubator of Kansas City, Hachmeister was able to work out an arrangement with a local building owner who would get a property tax rebate if his buildings were 51 percent art-oriented. That locale became KU's Red Door.
Hachmeister also negotiated for three adjoining buildings. While the one property will be used exclusively for the KU Art Department, the option is available for larger shows to access the neighboring two buildings.
As for the name of the venue, Hachmeister is still somewhat perplexed by the choice - at least the gallery is differentiated by its fire-engine red front door.
"One of the important things is helping students learn by letting them determine some things - and they learn it's OK to fail on occasion. The students went through a whole series of names for the gallery, and it was a decision by committee," he says.
Vital step
Weaver describes the Red Door as generating a warehouse-like vibe - mainly because it used to be a warehouse.
"It doesn't have that high-end gallery feel. But it does have a unique, rustic feel," he says.
As a graduate student hoping to carve a career from his art, Weaver believes the gallery provides a vital step.
"There is a good variety of stuff that's available here in Lawrence," he says. "But I feel that it's not a place where large buyers come to view art. It's not New York, or L.A. or Chicago. So as artists it becomes a challenge to get our stuff out beyond Lawrence. First Fridays helps that considerably."
Other than its monthly Friday date, the Red Door gallery is open by appointment only.
Kristi Arnold, a visiting artist in residence from Los Angeles who is the acting gallery coordinator, admits that so far there haven't been any requests for appointments.
However, she expects this Friday's October event to be as big a hit as its September launch.
"We had a huge turnout at the opening," Arnold says. "We actually had to ask people to leave because it was so full when we were closing. It was like last call."