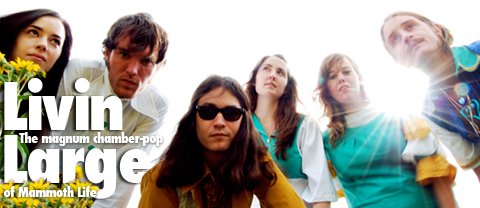 Monday, September 29, 2008
Mammoth Life appeared on the Lawrence scene during last November's Farmers Ball-a long-delayed debut for a band that actually formed four years ago. The group's first album "Kaleidoscopic Art Pop" was already completed by the time the seven-piece outfit hit the stage. What began as a collaboration between Nicholas Goss and Elizabeth Mead has evolved into a friendly collective of musicians, artists, filmmakers, poets and clothing designers who share a headstrong vision to craft cheery chamber-pop music and inject a little bit of sunshine into the drudgery of everyday life. The Mammoths will emerge from hibernation this month to play two shows and preview tracks from their forthcoming spaghetti-western opus "An American Movement." The recently hitched Goss and Mead brought two new songs along for our podcast, which also features half a dozen cuts of their earlier musics.
No-fi highlights from the podcast
lawrence.com: You just got back from a whirlwind honeymoon in Mexico, eh?
Goss: Yep, just recently married, and very happy about it.
Would you recommend your destination (Cabo San Lucas) to other Honeymooners?
Goss: If you're looking to relax at a resort, absolutely.
Did you get any writing done while you were down there?
Goss: Oh no, that was the whole point. We were wanting to get a small break : We keep ourselves way too busy here.
How did the band come together?
Goss: Once we got here we immediately started working on Mammoth Life at Hashinger Hall. (The songs) "Bicycle Rider" and "First Semester of Collage" just came right out and instantly we were excited about it and we knew we should start taking this seriously. We began hand-selecting different members to fill out this art project over the next year and a half. That included our vocalist Bobby Sauder, our violinist Melicent King, our clothing designer Neil Goss, our film and tech support Cory Gugler and my lyric collaborator Nathan Girard. As soon as that happened we started recording "Kaleidoscopic Art Pop" at our house : We basically taught ourselves to record by buying a little 16-track Fostex recorder.
You might be the first band I've had in here that also has a fashion department, a lyric department and an art department.
Goss: It's an art project with artistic integrity. We take all those areas very seriously, because everyone is very talented. Neil just recently released his second wave of Mammoth Life clothing and that's what the new photo shoot is from : Corey is doing a new video for us in October for "Convoluted Eye."
Where did you guys grow up?
Mead: We're from Pratt, about an hour west of Wichita. We both went to high school there, and Nicholas and I came up here the same year. We were together for about four years before we started seriously writing music together.
Do you have any streets named after you in Pratt yet?
Mead: Uh, not yet.
Goss: It's that small of a town. The main street still has bricks set in the road.
What is "Mammoth Life"?
Goss: Honestly the beast from many years ago has nothing to do with it. This is a lifestyle. We are artists and we are always working on our craft and pursuing it every single day of the week.
So the next project is influenced by country and western-swing music?
Goss: Absolutely. I founded a show on KJHK called "Swingin' on the Strings." I did it for about 2 ½ years but since I left college it's gone by the wayside. It basically had 1920s to 1960s country-and-western, western-swing, country-jazz the gamut of really fine artists working in that medium. Regardless of what modern country music has done to that image, I still think it's incredibly hip. People like Chet Atkins and Marty Robbins that's what we're taking influence from. With "An American Movement" we're taking country-and-western colors, spaghetti-western colors, surf-rock sounds and pop music and bringing that into our Kaleidoscopic Art Pop feel : Liz's great uncle George Wallace has been in a western-swing band since the '50s. He's got old Fender instruments and he turned me on to those sounds.
When do you foresee the next record coming out?
Goss: Mid 2009. This is a big statement from us and we really want to work hard on it and make sure that it's the best we can possibly do with this feel because I think it's a special sound.
When was the last time you played around town?
Goss: The first week of November we did Farmer's Ball, and right before that was our very first show at the Jackpot opening for Archetype and The Spook Lights : We want to be out there and play for everyone, but we don't want to just go out and keep repeating ourselves. We want to have more exciting stuff to show, and if that means taking a little time off and dropping out of the live scene in Lawrence for a short time, that's just fine.