Originally published April 1, 2009 at 8:28 a.m., updated April 2, 2009 at 8:38 a.m.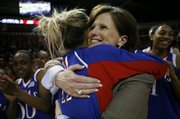 Updated 4/2/09 — The KU women's basketball team beat Illinois State, 75-72, in a WNIT semifinal Wednesday night in Allen Fieldhouse. The Jayhawks will meet South Florida at 1 p.m. Saturday in Allen Fieldhouse.
The KU women's basketball team advanced to the Women's National Invitational Tournament championship for first time in school history thanks to a 75-72 win against Illinois State Wednesday. The Jayhawks will face South Florida for the title at 1 p.m. Saturday in Allen Fieldhouse.
*...Fred Phelps will be there to picket the game, saying he heard that some of these basketball players sleep with men.
The women's team look forward to competing for the title in their mostly empty home court.
When asked to comment on the Jayhawks and their thus-far successful bid for the championship, KU Athletic Director Lew Perkins responded, "Of what tomfoolery do you speak? We, the fighting Jayhawkers, lost to the dastardly Michiganders of the north." When it was pointed out that it was the women's team who advanced, Perkins replied, "Is this a perverted joke? Women cannot play the ennobling sport of basketball! They can't even vote, by the Kaiser's mustache! More than likely, you're confusing 'basketball' with 'basket weaving.' I shudder to think what might happen if a woman and her gushing fluids, be it from her abominable flushing loins or her hysterical weeping, were to even gain entry to a court of basketballing!" It was then revealed that it wasn't Lew Perkins speaking at all, but the ghost of James Naismith. The apparition with the comically antiquated vernacular then hopped into his ghost buggy and rode away.
Women's basketball aficionado Don Imus imagines the game will look something like this:
*...based on actual news