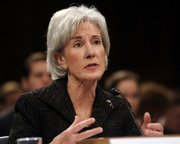 In the midst of her confirmation hearings for Health and Human Services Secretary, Gov. Kathleen Sebelius has corrected three years worth of tax returns after finding "unintentional errors." She and her husband paid a total of $7,040 in back taxes and $878 in interest from 2005-2007.
*...Those who are taking pleasure in Sebelius' tax woes are said by political scientists to be experiencing "Tom Daschenfreude."
The IRS refused Sebelius' initial offer to pay her back-taxes in "Obama/Sebelius '08" bumper stickers.
Treasury Secretary Timothy Geithner, who owed nearly $34,000 in back taxes before he took his position in the Obama cabinet, pledged a no strings attached TARP loan to Sebelius just to piss off Rick Wagoner.
When asked how big her balls had to be to come before a Congressional committee with these kind of tax problems, Sebelius defiantly responded with this very graphic video:
*...based on actual news