This spring, the interwebs birthed a teeny Lawrence-based website that might just make our world a better place.
The Lucha Narrative sprang from the soul of Sarah Sung, a KU grad and graphic designer seeking to merge her passions for creating cool stuff and helping the world.
Sung designed the impossibly cute hoodies, T-shirts, and totes that inhabit the online store. One shirt encourages: "Do Justice. Love Mercy." Many feature her original cartoon characters—Lucci, Jet, Clark, Pancho and Milo.
If the coolness factor alone isn't enough motivation to open your pocketbook, consider that Sung plans to donate a portion of the proceeds from each sale to charitable causes.
She's conspiring to make the Lucha Narrative a global force for change by bringing more artists into the fold and branching out into other cities. To that we say: "Totes! You go girl!"
The shy Sung visited with us to discuss the launch of the Lucha Narrative and her plans for saving the world.
No-fi highlights from the podcast
Podcast episode
The Lucha Narrative sprang from the soul of Sarah Sung, a KU grad and graphic designer seeking to merge her passions for creating cool stuff and helping the world. She visited with us to discuss the launch of the Lucha Narrative site and her plans for saving the world.
lawrence.com: What's the Lucha Narrative all about?
Sung: Lucha translates to "fight" in Spanish, so it's the story of the fight – in this case, fighting for justice.
Where did this spark of inspiration come from?
Sung: After I graduated KU, I moved out to California and worked for the music industry. I felt like I wasn't doing enough to help other people, so I freelanced with a few non-profit organizations. It was a lot of fun and it was rewarding, but it kind of wears you out when you're so focused on work and making money. I wanted to combine the two so I wouldn't feel bitter towards putting all my time into something that wasn't paying the bills.
Can you explain the five characters on the Lucha Narrative?
Lucci is the owl pirate—she symbolizes literacy programs and education. Jet is the fox and he fights to feed the hungry. Clark is the monkey and he supports music and arts education. Pancho is a walrus vampire and he's all about raising money for children's hospitals. Milo is a penguin pilot who is all about world relief and helping neighbors around the world.
Why did you create these characters?
My sister is a teacher and she would tell me all these stories about how kids aren't getting a good enough education. I've always believed that the education system should be stronger; the schools aren't funded enough.
Where is all the merchandise on the site going to come from?
I'm working with a printer in Kansas City called Bandwagon Merchandise … The idea started about three years ago, and it took a couple years for me to get over the fear of trying to take on something this big.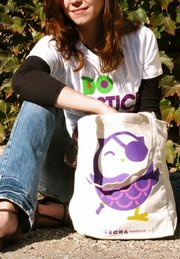 What sorts of things are currently for sale on the website?
There are hoodies, T-shirts, and totes. I would love to expand it to toys, stationary, home décor, furniture, art—everything basically.
Where does the money go?
The plan is that for each product sold, a portion of that (goes to charity) depending on which character it is. If you buy a Lucci tote, for example, a portion will go towards literacy programs.
Do you have a specific percentage in place?
Not right now. I'm debating. I want to do a lot more, but since it's so small we need to focus on building. But I'm definitely going to start (giving a percentage) from the beginning.
Will there be other artists contributing work?
I would love to eventually do that, but right now I'm doing it on my own. I'd like to put benefit shows together and get musicians involved. I'd also like to get community events together where people can come out and volunteer.
What's the best-case scenario for how the Lucha Narrative will impact the world?
I want to get involved in different cities. Basically my end goal is to be able to travel.
Have you picked specific organizations as beneficiaries?
I have a few in mind, but they're going to be changing every year, depending on the need.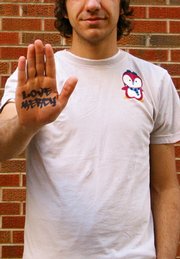 What are some of your artistic inspirations?
I really love Paul Frank's characters. Mine are a little more simple and "Euro" … I want to keep it fun and colorful.
Are there any causes in Lawrence you're hoping to take up?
Because going global is my ultimate goal, I think Lawrence is a good place to start. I'm very much a step-by-step person. It's intimidating if I say, "I'm going to conquer the world tomorrow." I'd rather start somewhere I'm familiar with and then work my way out.
What brought you back to Kansas after being in California?
I absolutely love California in terms of weather and most of the people I met there are awesome, but it's really expensive and I'm a Midwest person. I grew up in the country and Kansas is home, so I'd rather be where home is.