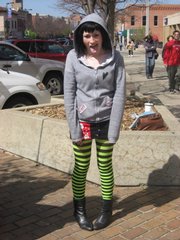 Name: Gypsy Williams-Ratzlaff
Age: 17
Sign: Scorpio
Hometown: Lawrence
Occupation: Student at Lawrence High, flyer designer for The Replay and the Jackpot.
What were you doing when scouted? I was listening to Sabastion playing the viola and shopping downtown.
Favorite places? Beyond the Door, ATC, Social Service League, Love Garden, and Java Break.
How would you describe your style? Tacky, trashy bag lady.
Where do you get your hair cut? I cut my own hair.
Favorite trends? I like crazy tights, patches, altering clothes, modifying guy clothes to fit me, boots, and really tacky and trashy looking stuff.
Least favorite trends? I don't like when girls wear fancy prom high heels with jeans and sweatshirts, and I don't like when guys wear women's flared jeans.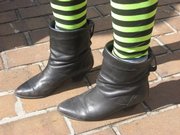 Tattoos/piercings? I have gauges in my ears and a Monroe piercing that was done at Saints and Sinners in Dallas, Tex.
Favorite coffee shop? I like Java Break, because we always watch The Pink Panther on mute and make up our own words. I also like writing on their walls and just hanging out with my friends.
Favorite hangouts? I like to explore and go on adventures by the river. I also like taking pictures around town.
What would you like to see more of in Lawrence? I'd like to see more dirty gutter punk kids, more girl gangs, a roller skating rink, and more street performers. I'd like to see another Busker Festival downtown.
What would you like to see less of in Lawrence? KU stuff, and less drunk college kids and dude bros.
Who are your fashion influences? Nancy Spungen, Cyndi Lauper, and Tank Girl.
People say I look like: Dolly Parton, Hilary Duff, and Theda Bara.
Tell us a secret: I love watching Hannah Montana and Suite Life of Zach and Cody.
PRICE OF CLOTHING: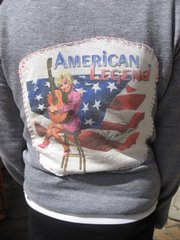 Boots: Purchased today at the 100 Women Clothes Exchange for $1
Tights: Fun & Games, 8 years ago for $5
Skirt: Purchased at Creation Station, 3 months ago for $25
Hoodie: My mom bought it at the Social Service League, and I modified it.
Shirt: Stolen from a friend
Gauges: Third Planet, they were a Valentines present from my mom.