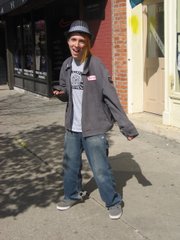 Name: Sabastion Simmons
Age: 14
Sign: Cancer
Hometown: Lawrence
Occupation: Central Junior High student and viola player.
What were you doing when scouted? I was playing my viola at Beyond the Door.
Favorite places? Third Planet, Creation Station, Beyond the Door, and pretty much all of downtown ... It is my stomping ground.
How would you describe your style? Crazy
Where do you get your hair cut? My aunt cuts my hair at home.
Favorite trends? I really like wearing clothes that are a little bit ratty and tattered looking, and I like wearing acrylic gauges.
Least favorite trends? I don't like when people wear bright yellow snakeskin pants, or animal-print pants in general.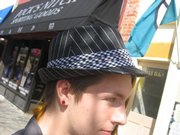 Tattoos/piercings? I have gauges that were done at Skin Illustrations.
Favorite coffee shop? I like Java Break because they have delicious drinks. I always get the chai with espresso.
Favorite hangouts? I'm usually wandering around downtown or skateboarding at the skate park.
What would you like to see more of in Lawrence? I'd like to see more skate shops, more unusual music stores, and more music venues.
What would you like to see less of? I'd like to see less hip-hop style, but I really like Lawrence the way it is.
Who are your fashion influences? My dad and the Misfits.
People say I look like: An emo kid, or Sebastian Bach.
Tell us a secret: I'm afraid of large carousels.
PRICE OF CLOTHING: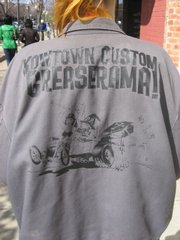 Shoes: Element, purchased at White Chocolate, 3 months ago for $77
Jeans: Levis, I don't remember how much they cost.
Shirt: My dad's old shirt, I've had it for a month or so.
Jacket: My dad's jacket, which he modified himself.
Hat: Purchased in Chinatown in New York City, last week for $10
Gauges: Creation Station, purchased 2 weeks ago for $7.50