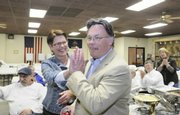 In an election that featured a turnout of just 13.9 percent of Lawrence voters, downtown barber Mike Amyx won reelection to the City Commission with just 5,564 votes. Newcomers Aron Cromwell—the owner of an environmental consulting business—and Lance Johnson—the owner of a civil engineering firm—came in second and third, respectively. One polling place on the KU campus ended up with a 0.2 percent turnout.
*...Thanks to the incredibly low turnout, write-in candidates with just one vote apiece were able to win seats. The Lawrence City Commission welcomed its newest members, Dr. McSteamy, Admiral Akbar, and Mr. You All Can Suck My Ass Stern Rules Tower 7 Ron Paul Penis Penis Penis.
Poll watchers were initially shocked by the throngs of Lawrence voters who turned out to exercise their civic duty in a participatory democracy, but then discovered it was just a line of people stretching from Kansas City waiting to get their free Grand Slamwich at Denny's.
While voter apathy of this scale is a depressing comment on the state of our community, sociologists say it's nowhere near as depressing as this guy:
*...based on actual news