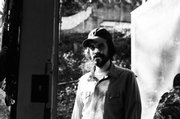 As a kid—and let's be honest, as adults, too—few things bring a quicker smile to someone's face than busting someone who has laid a fart.
Yet few have been able to translate this into success like Fudge Factory Comics' Travis Millard, one of Lawrence's best-known artist ex-pats. Just one among Millard's mind-bogglingly numerous projects, the book "Farts: A Spotter's Guide," which he illustrated, is in its third printing since October.
Though the fart spotter's guide is just one small piece of the Millard puzzle, much of his work has a similarly playful feel—never seeming to take itself, or life, too seriously.
Although he's called L.A. home since 2001, his work is still strewn about town—perhaps mostly prominently on the back porch of the Replay—usually signed "tm2." Millard returns to Lawrence this week for a Hallmark Symposium at KU. While he's in town, he'll also be selling his art and silk screening stuff people bring in at Wonder Fair.
lawrence.com: In the alley outside of an apartment I used to live in, there was a graffiti piece of yours—a squirrel or some other kind of creature with a crazy hairdo. Are you still creating street art?
Photo Gallery
Illustrations by Travis Millard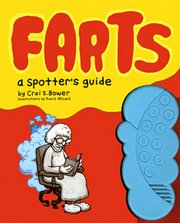 Not as much, really. I definitely don't get out around LA. LA's a different animal when it comes to graffiti. I did it at a time because I was compelled to but I'm not really as much anymore. I've done some installations around but I don't go out and bomb the streets anymore. I just draw and get bombed. Just kidding. Sometimes I think about it but generally I've got other things that will keep me busy at home.
Do you think that you work differently when you know you're creating something that's public art – like something in a bar or something that you know is going to have a lot of eyes on it?
I just did a mural that is gong to hang in the street in New York at my friend's shop. Eleven Shop in Little Italy. The piece is 12 feet wide and 8 feet tall. Knowing it was going to be really big and on the street I wanted to choose an image that I had already done. Something I was comfortable doing and I didn't want it to be too busy because there's so much going out there. I wanted to come up with something that would be kind of bold and would demand its own space and wouldn't get swallowed up by all the static. I chose this drawing of an eagle coughing up a beer tab. I chose the image because I think it still has a little mystery to it but it's talking about something. The best piece out there on the street is going to be direct.
Do you think it's easier financially or creatively to be an artist in LA rather than somewhere like Lawrence?
There is a ton of stuff happening in Lawrence as well and I don't think you necessarily need to be in a big city to be an artist, especially now with the way people are in touch. Technology and all that bullshit – it's not the same game as it was even when I was in school. Lawrence is great because it has an awesome community of artists and people. I also feel like when you take the step to live in a place that's more demanding of your energy like L.A. you rise to the challenge more. You have to keep your game up, I guess.
Past Event
Thursday, April 16, 2009, 6 p.m. to 9 p.m.
Wonder Fair: Art Gallery & How!, 803 Mass. St., Lawrence
All ages / Free - $5
Past Event
Monday, April 13, 2009, 6 p.m.
Kansas University, Kansas University, Lawrence
All ages / Free
You've had a handful of corporate gigs out west. Is that just a paycheck to you or do you enjoy that challenge?
Depending on what it is, I like to take on commercial projects because I like the challenge of making a nice piece and still maintaining my aesthetic. I think generally the clients that come to me are coming to me because they like the style or the humor or something to it that isn't really out of my range. If it's something that feels kind of weird I just don't take it on. I think I've generally had really good luck with the clients that I've been able to work with. I've been able to avoid the assholes pretty well.
So what's the secret to making a living as an artist?
Millard: I think it's just important to stay positive more than anything else—and keep working. If you start to doubt yourself too much, then nobody else is going to care enough to make you do it. You have to believe in it more than anything else. There are definitely days of doubting it, but for the most part just moving onto the next thing, and juggling a lot of things. If I'm getting burned out I have something else I can turn to and pick up. I play music with my neighbor Eddie and I'll be able to switch gears and that helps a lot. Balance what you want to do and keep active and stay positive.