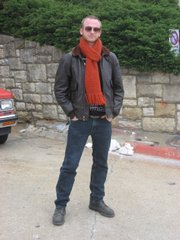 Name: Will Vannerson
Age: 27
Sign: Capricorn
Hometown: Pace, Fla.
Time in Lawrence: Almost a year.
Occupation: Graduate teaching assistant and shop technician for KU's Sculpture Lab.
What were you doing when scouted? Working on homework for my anthropology class in the sculpture lab. 
Favorite places? I seem to spend most of my money at Checkers. I also like The Casbah Market, DotDotDot ArtSpace, and going to Henry T's on Monday nights. 
How would you describe your style? Utility chic, which I am just using the word 'chic' for your benefit. 
Where do you get your hair cut? In my bathroom in front of the mirror.
Favorite trends? Cut-off jean shorts; it's kind of a dirty south thing. Lately I've been wearing my scarf a lot-- I crocheted it myself.
Least favorite trends? Ironic hipster mustaches and when people wear their pajamas outside of their house.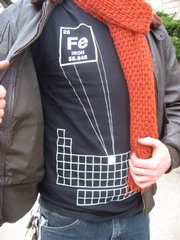 Favorite coffee shop? The snack bar in the Art & Design building, because they give me refills in my huge barrel of a coffee mug for only $1.00. 
Favorite bar? I like the atmosphere at the Tap Room, but usually if I go out, it'll be an early thing at Free State.
What would you like to see more of in Lawrence? I'd like to see more sculptures around town, that's the big thing in my mind. More support and funds for the sculpture competition downtown.
What would you like to see less of in Lawrence? Less roadwork and less wind.
Who are your fashion influences? My fashion isn't really influenced by anyone in particular. In terms of my sculptures, my old professor Charles Hook is a big influence. I'm really inspired by looking at old pictures of artists and craftsmen from different eras, like H.C Westerman. 
What's in your man-bag? A scriber tool, a voice recorder, a few ounces of sterling silver, metal snips, and The Complete Guide to Sharpening by Leonard Lee.
Tell us a secret: I love listening to Madonna's album "Confessions on a Dance Floor." It's a tasty jam.
PRICE OF CLOTHING:
Boots: Red Wing, purchased at the Shoe Box in Tallahassee, Fla., 2 years ago for $175.
Jeans: Lee, purchased at Sears, 2 weeks ago, on sale for $15.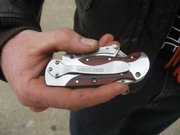 Shirt: From a national cast-iron conference, made by the crew in Wisconsin. I got it last weekend.
Jacket: Issued to my dad in January 1968 in the Navy. I've had it for about 10 years.
Scarf: The yarn is from Jo Ann Fabrics, and it was crocheted by me back in December.
Knife: Craftsman, purchased at Sears, 1 year ago for $8.