We often forget that not all nerds are created equal. One mustn't confuse sci-fi nerds and those disappearing bookish "reader" types, for example. Luckily, Antennas Up are here to set everyone straight.
The Kansas City trio channels the fun, electronically laced funk of acts like Jamiroquai. These days they're pushing the national release of their self-titled debut album (mastered by Bob Power, who has worked with A Tribe Called Quest, The Roots, and Common) as well as their upcoming tour.
The guys joined lawrence.com on a sunny restaurant patio in Overland Park, where we tested their oft, self-professed "nerditude."
No-fi highlights from the podcast
lawrence.com: Thoughts on the upcoming Star Trek Movie?
Kyle Akers: We're all different kinds of nerds. I'm glad we can talk about this because in the past I've had to hide it.
Bo McCall: This guy [Akers] has the entire Star Trek Next Generation Boxed set from Japan.
Akers: It's like 49 discs. It's the Asian Editon. Anyway, I think the movie's gonna be great. It's got a great director, Sylar from Heroes. I think it's gonna be action-packed.
Podcast episode
Kansas City's Antennas Up channels the fun, electronically laced funk of acts like Jamiroquai. The guys joined lawrence.com on a sunny restaurant patio in Overland Park, where we tested their oft, self-professed "nerditude."
Past Event
Saturday, April 18, 2009, 10 p.m.
Jackpot Music Hall, 943 Mass., Lawrence
18+ / $5
Band songs
Antennas Up
What are the other members' fields of expertise?
Ryan Whitehouse: I was a computer science major so I kind of stayed behind a bunch of monitors and things.
McCall: It's actually really exciting having Ryan out right now. Usually he's sitting in the basement. He doesn't leave the house very much.
Whitehouse: It's rare for me to get out. Usually learning about gear, that sort of thing.
McCall: What time did you get up today?
Whitehouse: Noon today. That's early.
McCall: What time did you take your pajamas off?
Akers: Right before we left for here.
Your field, Bo?
McCall: I read a lot, I guess. Kind of a travel nerd.
Akers: When we're on the road, Bo will be like, 'Guys. I got some new audiobooks to listen to. Check this out—this one's on the history of Islam.'
OK, so what video games are you currently playing?
Whitehouse: I'm playing peggle right now but that's kind of lame.
Akers: We can talk about Mafia Wars.
Whitehouse: I am playing Mafia Wars on Facebook. Join my mafia. It's awesome.
Akers: I actually just put my Xbox games away so that we could write this record. That was big. I haven't touched my Xbox for a month now.
Whitehouse: I do have a bunch of systems. Atari through… well, too many of them. I'm more about the older games.
Favorite beer?
McCall: IPA is my favorite style of beer. There are so many. It's like, 'what is your favorite color'?
Akers: My favorite beer is Orval. It's brewed by Trappist monks in Belgium. It's a Belgian white-style beer. It has positively the most flavor I've ever experienced. You'll get different flavors minutes after you drink it. It's crazy but you can only get it in four cities in America.
Whitehouse: Since I haven't had that, it's Delirium Tremens. Same kind of beer.
Which state would you rather get gay married in – Iowa, Vermont, Massachusetts or Connecticut?
Akers: Ready? 1…2…3…
All: Vermont.
Wow, strong consensus…
McCall: We've toured through Vermont quite a few times. It's a really quirky, weird state. Every time we go up there it's gonna be strange.
Akers: We went to this a museum and we met a guy who lived in a tent down by the river and was a professional skinner. He talked to us about how to boil a raccoon so that you could eat it effectively. He also talked about his brother, who'd killed a man. He said, 'That idiot didn't bury him any lower than three feet. Of course, he's gonna get caught.'
McCall: That museum was eccentric. They had sea monster skeletons…. There was also this restaurant in the middle of nowhere that while we were there in walks an eight-piece salsa band. One of the guys was old and had a beard, and was playing a bone and he stunk of death.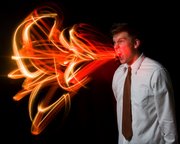 How do you play a bone? Like spoons?
McCall: Yeah. He also had a drum. There were maybe 10 people in that place in Vermont in the middle of January, and in they come. They were a good band.