Where the hell are the kabuki women?
The deadline is looming, people are waiting, and the stony faced urban clothing guys are getting antsy. The human kewpie doll in the skyscraper heels and poodle skirt is chain-smoking as she waits for her turn in the spotlight. Accessories and hair are flying. Stylists are joojing like wild-eyed demons. Models are shoved out in front of the crowd whether they're ready or not. Time is slipping away, and we still don't have an ETA on the goddamn kabuki women!
Photo Gallery
The Fierce and the Fabulous: Local Fashion Designers
Fashion shows are high adrenaline affairs—and this wasn't even the actual fashion show, it was just the photo shoot for the article about the fashion show. One can only imagine the apocalyptic tranny mess at the real deal.
"My background is in theater, so I've been in the midst of total chaos," says Malina Heinemann, a multi-tasking milliner (that means she makes hats) and veteran of multiple Lawrence fashion shows.
"I think that doing a runway show fits right into that category. You've got 100 models, 20 designers, the technical staff, the guys running the show—people get really stressed and anxious. People can start to butt heads. I think the nature of this thing is pretty mad. With all of the people involved, it takes on a life of its own."
A single fashion show—this beast of a thousand feather boas—could generate enough drama to swallow us all.
God help us, then, that Lawrence is hosting two such shows on the same day. The Spencer Museum will kick off the Apparel-geddon with Spring Student Night, then the evening—and possibly our very existence—will come to a close with the Drunken Sailor's Tailor show at Abe and Jake's.
The two shows couldn't be more different in tone, but they each share a focus on local design and activism.
The show for Spring Student Night is the more family friendly of the two and will promote sustainable fashion, highlighting area designers and retailers who provide eco-friendly options.
Past Event
Thursday, April 23, 2009, 6 p.m. to 8 p.m.
Spencer Museum of Art, 1301 Miss., KU campus, Lawrence
All ages / Free
Past Event
Thursday, April 23, 2009, 8:30 p.m. to 11:30 p.m.
Abe & Jake's Landing, 8 E. Sixth, Lawrence
18+ / $5
Drunken Sailor's Tailor, the booze-besotted ying to Spring Student Night's yang, has 16 lines from a gaggle of local fahionistas that will benefit Lawrence's Americana Music Academy and relief efforts in Burma.
"The way I look at it, there are really good causes that need help. If I'm going to help them out, this is what I'm good at," reasons Phil Chiles, Wild Man Vintage proprietor and (along with Heinemann) co-organizer of Drunken Sailor's Tailor.
"It's a lot of hard work and there's a lot of stress involved and I don't really know why I do it. I'm an idiot. The point is that it helps organizations that I believe in that do really good work, so I can't complain too much," he says.
Fashion and social consciousness, if you'll forgive the awful pun, are a perfect fit in Lawrence.
"People here are open minded," says Megan Turner, an organizer of the Spring Student Night show. "Not that we're all a bunch of hippies, but people don't settle for the norm. People are creative in Lawrence—it's in the air."
Tricia Rock, a designer and stylist who will have a line in Drunken Sailor's Tailor, concurs.
"My parents live in Olathe, so when I go there I get weird looks left and right. I get stared at," says Rock, who describes her look in the show as 70's punk meets 90's grunge meets motorcycle mama.
"In Lawrence, it's an arts based community and it sees the way people dress as an art form," she says.
"People really are basically wearing art," says Annette Becker, a model in the Spring Student Night show, herself a piece of art in full kabuki facial paint.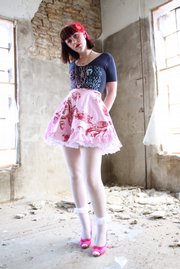 "It's also a very democratic thing, because everyone wears clothing and everyone has a choice in what they wear. You can choose to wear something from Wal-Mart that millions of people have the option to wear, or you can wear something special that one person designed specifically—it's kind of a beautiful thing."
That's not to say this evening will be dominated by somber charitable causes and sober art appreciation.
"Preferably, I need a lot of whiskey to get on the runway," jokes model Lindsay Major, who will be strutting it in both shows.
"It's exhilarating. Obviously you have the knees shaking and you're terribly nervous, but once you get out there you just do it and try not to fall. That's where the whiskey actually becomes a problem. Hopefully the Spencer show will be a sober run—it's the Abe & Jake's show where the partying will happen."
Though hopefully not too much partying, lest the runway become a multi-model pileup.
"When you get some intoxicated, nervous models on stage, you get people tripping and falling over," says Heinemann with a sigh. "We need to have a little blood-alcohol test before people get on stage."
And don't even get the Drunken Sailor folks started on the broken sinks. "We're still searching for the culprit that broke a sink at Beyond the Door," fumes Chiles about an incident, possibly involving amorous models, during the Fashion Monster show they threw at Replay last year.
"Consider this a Crime Stoppers alert—we're still looking for the perpetrators. There are a lot of theories about what happened to that sink. There were probably two people involved, but I don't want to get too dirty about it."
Sexy vandalism notwithstanding, those involved with the shows are looking forward to intercourse of a more intellectual level.
"Everybody inspires one another," says Aubrey Gilbert, co-founder of Prodigy Apparel, who will be exhibiting their line of Midwestern urban at Drunken Sailor.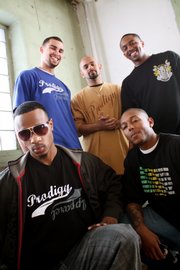 "There might be something in our line that someone can take from us and vice versa. The whole atmosphere is innovative and diverse. That's what makes it beautiful."
"This is Lawrence, KS," continues Prodigy's Nick Givechi. "I've heard it said that it's kind of like circling the wagons here. When you get inside of Lawrence it's such a melting pot of everything. It's a sense of community."
And when the melting pot gets to boiling on this day of pageantry and passion, beware of eruptions.
"It will basically be a straight day of people panicking without pause," predicts Chiles. "There's always an issue, there's always a technical problem, there are always people who don't know what's going on—it doesn't end until well after the show is over. It's fun. It's kind of surprising how everyone can be going crazy but it always comes together. Once people get on stage, all the stuff they were worrying about just works out in the end."
"Things are going reasonably well right now," says a cautiously optimistic Heinemann. "We'll see how long that lasts on the day of the show."