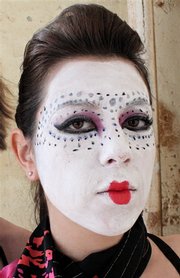 Lindsay Major, kabuki enthusiast, Fresh Producier, hates haggling
How do you save money?
"I recently backpacked through Europe and bought an awesome sleeping bag using my brother's discount. He's a rock climber and is an official member of REI, which is an outdoor retailer. It was originally $80, but I got it for $40. What made it even cheaper is that I charged it to my mom's credit card. Normally, I wait a week before I buy anything. I never spend impulsively. Unless it's something I need right then at that moment and I absolutely love it and I can't live without it—then I'll buy it. And then, usually, I'll have buyer's remorse."
How do you splurge?
"Food and wine. You can never spend too much money on good food and wine—it's good for the soul. I will spend more money on good ingredients when I eat out. And it has to be red wine. White wine is awful. I know people hate merlot these days, but if you find a really good one, it can be amazing."