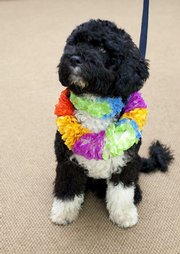 Fulfilling his election night promise to his daughters, President Obama and his family have finally settled upon a dog for the White House. The first family will be receiving a Portuguese water dog as a gift from Senator Ted Kennedy. Sasha and Malia Obama have decided to name the dog Bo.
*…In an embarrassing turn of events, it was revealed the puppy owes thousands of dollars in back taxes.
And in another hurdle that needs to be overcome before the White House can receive the dog, Vice President Biden must be neutered and dewormed.
Top 20 Other Pets Considered by Obama Family
1. Hamster
2. Iguana
3. Ferret
4. Parakeet
5. Electric eel
6. Badger
7. Wildebeest
8. Feral dingo
9. Pregnant hippo
10. Starving grizzly bear
11. Velociraptor
12. Bull elephant in heat
13. Bovine spongiform encephalopathy virus
14. Glenn Beck
15. Face eating chimpanzee
16. Basket of week-old dead kittens
17. Hyper-intelligent shark with gun that shoots piranhas
18. Decepticon
19. Pony with AIDS
20. Chinchilla
*...based on actual news
More like this story on Lawrence.com